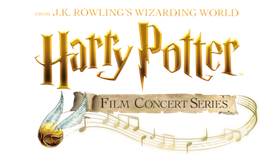 BALTIMORE SYMPHONY ORCHESTRA ANNOUNCES
THE RETURN OF THE HARRY POTTER FILM CONCERT SERIES WITH
HARRY POTTER AND THE CHAMBER OF SECRETS™ IN CONCERT
Audiences will experience the second chapter of the Harry Potter Film Concert Series with the Baltimore Symphony Orchestra performing music from the film 
Tickets available to the general public starting May 12, 2017 at BSOmusic.org
BALTIMORE (May 12, 2017) – The Harry Potter Film Concert Series returns to the Joseph Meyerhoff Symphony Hall with Harry Potter and the Chamber of Secrets™, the second film in the Harry Potter series. On July 27 and 28 at 8 pm and July 29 at 3 pm, the Baltimore Symphony Orchestra will perform John Williams' unforgettable score live from Harry Potter and the Chamber of Secrets™, while the film plays in high-definition on a 40-foot screen. The Harry Potter Film Concert Series, which is another magical experience from J.K. Rowling's Wizarding World, kicked off in June 2016 with Harry Potter and the Sorcerer's Stone™ and is scheduled to include hundreds of performances across more than 35 countries around the world through 2018.
In Harry Potter and the Chamber of Secrets™, cars fly, trees fight back and a mysterious house-elf pays Harry a visit to warn him of what lies ahead this year in the world of wizardry. This year at Hogwarts, spiders talk, letters scold and Harry's own unsettling ability to speak to snakes causes his friends to doubt him. It's a year of adventure and danger when bloody writing on a wall announces: "The Chamber of Secrets has been opened." Saving Hogwarts will require all of Harry's, Ron's and Hermione's magical abilities and courage.
Earning a Grammy® nomination for the score, the bewitching and incredible music composed by John Williams became an instant classic, conjuring beautiful and soaring motifs continuing the adventures of Harry Potter.
This film concert series has been created by CineConcerts, in partnership with Warner Bros. Consumer Products, and will be conducted by its creator and Producer, Justin Freer. He explains, "The Harry Potter film series is a once-in-a-lifetime cultural phenomenon that continues to delight millions of fans around the world. It is with great pleasure that we introduced for the first time ever an opportunity to experience the award-winning music scores played live by a symphony orchestra, all while the beloved film is simultaneously projected onto the big screen. It is an unforgettable event."
Brady Beaubien of CineConcerts and Concert Producer for the Harry Potter Film Concert Series added, "Harry Potter is synonymous with excitement around the world, and we hope that by performing this incredible music with the full movie, audiences will enjoy returning to this magical world, and to the many wonderful characters that inhabit it."
Tickets go on sale to the general public Friday, May 12 via BSOmusic.org and 410.783.8000.
For more information on the Harry Potter Film Concert Series, please visit www.harrypotterinconcert.com.
About the Baltimore Symphony Orchestra
For over a century, the Baltimore Symphony Orchestra (BSO) has been recognized as one of America's leading orchestras and one of Maryland's most significant cultural institutions. Under the direction of Music Director Marin Alsop, the Orchestra is internationally recognized and locally admired for its innovation, performances and recordings, and educational outreach initiatives including OrchKids. Launched by Marin Alsop and the BSO in 2008, OrchKids provides children educational resources and fosters social change through the power of music in some of Baltimore's underserved communities.
The Baltimore Symphony Orchestra performs annually for more than 350,000 people throughout the State of Maryland. Since 1982, the Baltimore Symphony Orchestra has performed at the Joseph Meyerhoff Symphony Hall in Baltimore. In 2005, with the opening of The Music Center at Strathmore in North Bethesda, Maryland, the BSO became the nation's first orchestra with year-round venues in two metropolitan areas. More information about the BSO can be found at BSOmusic.org.
About CineConcerts
CineConcerts is one of the leading producers of live music experiences performed with visual media. Founded by producer/conductor Justin Freer and producer/writer Brady Beaubien, CineConcerts has engaged millions of people worldwide in concert presentations that redefine the evolution of live experience. Recent and current live concert experiences include Gladiator, The Godfather, It's a Wonderful Life, DreamWorks Animation In Concert, Star Trek: The Ultimate Voyage 50th Anniversary Concert Tour and Breakfast at Tiffany's.
Justin Freer has quickly become one of the most sought-after conductors of film music with a long list of full symphonic live to projection projects. He has appeared with some of the world's leading orchestras including the Chicago Symphony Orchestra, London Philharmonic Orchestra, New York Philharmonic, Philadelphia Orchestra, Philharmonia Orchestra, San Francisco Symphony and Sydney Symphony Orchestra. From full-length movie screenings with live orchestra to music-interactive sporting event experiences to original 3D-environment holiday programming, CineConcerts is at the forefront of live entertainment.
About Warner Bros. Consumer Products
Warner Bros. Consumer Products, a Warner Bros. Entertainment Company is one of the leading licensing and retail merchandising organizations in the world.