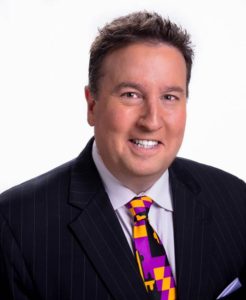 WMAR NEWS ANCHOR JAMIE COSTELLO REACHES MILESTONE COVERING NEWS IN MARYLAND
MAY 24, 2017
BALTIMORE – On May 29, 2017, ABC2 News Anchor Jamie Costello will mark his 30th year with Maryland's first television station, WMAR-TV. Costello is a Maryland native. He grew up on the east side of Baltimore County in Rosedale. After attending the Broadcasting Institute of Maryland, he spent a brief period at WHAG-TV in Hagerstown, Maryland, before joining WMAR on May 29, 1987.
, Costello's first on-air assignment was a feature on Memorial Day plans in Baltimore. Since then he has covered thousands of local and national stories of note and anchored virtually every news show at the station. From Pope John Paul II's Baltimore visit in 1995 to the Ravens Super Bowl championships and Cal Ripken Jr.'s 2131st game, Jamie has blended his unique Baltimore perspective into every story.
"Jamie is our "Poet Laureate" of Baltimore," said Kelly Groft, news director at WMAR ABC2. "In almost every situation, especially emotional news moments, he knows the right thing to say, the comment that condenses and encapsulates the moment for the viewer. That is the true mark of a professional who knows his audience extremely well."
"Jamie Costello not only covers Baltimore, he IS Baltimore," said Bill Hooper, general manager of WMAR. "It's very rare that a talent such as his stays in one market for an entire career, let alone the same station. We and this community are fortunate he has remained such a pivotal presence in keeping our audiences informed and connected."
In addition to leading WMAR's 5, 6 and 11 p.m. newscasts alongside Anchor Kelly Swoope, Costello uses his skill in the Baltimore vernacular to feature regular Marylanders with his "Student Athlete of the Week" and "2 Good 2 Be True," which focuses on positive stories and people.
The station will honor Costello and his contributions to Baltimore media on-air and through social media posts at the end of May.
About WMAR & Scripps – WMAR-TV was the nation's 11th (and Maryland's first) television station to sign on-the-air in 1947. The station has been the site of many technological breakthroughs: first with a color film processor for television news and production, and the first zoom camera lens for film and tape cameras. WMAR is owned by the E.W. Scripps Company.
The E.W. Scripps Company (NYSE: SSP) serves audiences and businesses through a growing portfolio of television, radio and digital media brands. Scripps is one of the nation's largest independent TV station owners, with 33 television stations in 24 markets and a reach of nearly one in five U.S. households. It also owns 34 radio stations in eight markets. Scripps also runs an expanding collection of local and national digital journalism and information businesses, including multi-platform satire and humor brand Cracked, podcast industry leader Midroll Media and over-the-top video news service Newsy. Scripps also produces television shows including "The List" and "The Now," runs an award-winning investigative reporting newsroom in Washington, D.C., and serves as the long-time steward of the nation's largest, most successful and longest-running educational program, the Scripps National Spelling Bee. Founded in 1878, Scripps has held for decades to the motto, "Give light and the people will find their own way."
##