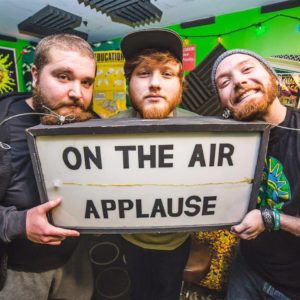 I chatted with Danny Devaney from the band Higher Education recently, about the struggles of band life and their upcoming gig!
Q: Talk a little about yourself…where were you born?
A: I was born and raised in Hyattsville, Maryland. Growing up we didn't have much but we always had music and family. I can remember family car rides, singing along to bands like Aerosmith, Led Zeppelin, and The Beatles. Those memories have really shaped who I am and those are still my two top priorities today.
Q: When did you know you wanted to be a musician? Who influences you?
A: I've always known I wanted to be a musician. My Dad was a singer in a few different bands during the 80s and he always made sure music was apart of our lives. I would say that my family is my biggest influence and is what drives me to do what I'm doing today.
Q: How did Higher Education form?
A: Before Higher Education I was in a band with some of friends from high school. I got Petey to start singing with us and everything started to take shape. The day our drummer quit a friend brought Brad to our house to jam and we've been together ever since.
Q: Is there a story behind the band name?
A: Once we became a three piece we needed a new name. I had poster in my room giving instructions on how to roll a joint. The title was Higher Education and the name stuck.
Q: What is your songwriting process? does someone take the lead or is it a group effort?
A: Petey and I write our own songs and then bring them to the group. We all give input and the songs naturally evolve and change.

Q: I saw you recently had a baby boy. How hard is it to balance your personal life with the band life?
A: It can be challenging because It's hard to spend anytime away from my family right now. Oliver is growing so fast and learns something new everyday. Balancing the two happens naturally because I know how much time needs to be put into this kind of work.
Q: What is your song "Revolt" about?
A: "Revolt" is about revolution through music and standing up and speaking out. We feel like our generation has a really strong message and we want to keep moving that forward.
Q: What was it like filming the music video for React? How fun was it?
A: React was such a cool video to shoot because we came up with the story and the imagery as a band. Cosmo Losco was great to work with because he really let us have a hand in directing and producing the video. I look forward to doing more projects like that.
Q: What does it mean to you to be a part of the Maryland music scene?
A: Being apart of the Maryland music scene is great because there is a real sense that we are all in this together. I've met so many awesome people and musicians who have become really good friends. The overwhelming support from everyone in these past few years has made it possible for us to get out there and keep doing what we love to do.
Q: Are you excited about your show at 8×10 on the 27th?
A: The 8×10 has always been one of my favorite venues even before we started playing there. Every time we are there it is good vibes all around. We appreciate how much the staff takes care of us and the atmosphere is so comforting and welcoming that it's always a great time. I'm stoked to be back Saturday May 27th with our buddies Tropidelic, Wise Eyes, and Joint Operation.
Higher Education headlines The 8×10 May 27th!
Follow Higher Education on Twitter
'Like' Higher Education on Facebook