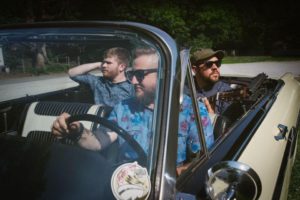 I chatted with Jordan from Pressing Strings about their music and their Annapolis roots.
Q: How did the band form?
The band started with my good friend and I playing as a duo at house parties and bars at Salisbury University. Then it went to a trio, quartet…over the years, band members changed and went on to do other things but I decided to keep it going. The current and final lineup that we have now is a product of the Annapolis music scene. All of us musicians in town know one another and it came together pretty naturally.
Q: What is the hardest part of being in a band?
Well luckily in this band we all get along really well so I'd say the next hardest thing is just believing in what you are creating enough to keep grinding away at it. I don't think most people understand the amount of sacrifice and patience it takes to make music full time.
Q: What is your favorite song of yours and why?
That's a tough one cause they are all my babies….maybe Back Where I Started, I always like playing and singing that one. It reminds me of a sort of moment of clarity I had when I wrote it.
Q: What was it like filming your video for "Most of Us?" Where did you film it?
We filmed that video walking up Maryland Avenue in Annapolis at 3AM. We had just finished a gig and it felt like a ghost town. It was pretty surreal because what was once the nation's Capital building is at the end of Maryland Avenue and we were basically walking up to the steps of this enormous government building that had stood through slavery and the civil war singing a song about my frustration with how divided it seems we still are in this country.
Q: What does it mean to you guys to be able to play First Thursdays for WTMD?
Considering how many great bands there are in the MD area, and us being the only ones on the bill, it's an honor. The level of talent that WTMD gets for these concerts each year is tremendous and to be a part of that is a benchmark goal for us.
Q: Who inspires you?
People who love music so adamantly that they seek it out and share it with others.
Q: What does it feel like to be a part of the Maryland music scene?
It makes me proud because we all work crazy hard to make it what it is. Not just the bands and musicians but the bars, venues, festival creators etc.
Q: Are you excited about WTMD First Thursdays this week?
Does the Pope shit in the woods!?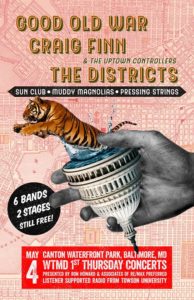 Pressing Strings play WTMD's First Thursday this week!
'Like' Pressing Strings on Facebook
Follow Pressing Strings on Twitter