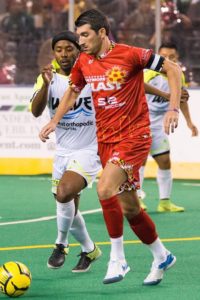 I chatted with Tony Donatelli about his love of soccer and his involvement with the Show Your Soft Side campaign.
Q: Talk about your childhood, where you grew up, etc.
Born and raised just outside of Philadelphia, with my brother and sister. I graduated from Temple University. I've been down in Baltimore for the last couple years.
Q: When did you start playing soccer?
I was about four years old. My older brother played, as did my Dad when he was growing up. It's something that's always been around me my whole life.
Q: What is your favorite part of the sport?
I LOVE being part of a team. You make so many great friendships. Victory is just a little bit sweeter when you know you've accomplished it with your teammates.
Q: If you could describe your time in Baltimore thus far in one word, what would it be and why?
Ohh man. I guess 'successful.' It's such a great team to be a part of. The fans are amazing, and the front office is top notch. I've been here for five years, been to the playoffs all five, and won a championship three times. It's something you have to cherish.
Q: Are the other teams afraid of you guys at this point?
::laughs:: Oh they're definitely afraid. Every game we play is tough because they know we were the best the previously season.
Q: What does it feel like in that moment when you win?
It's hard to describe. This year was tough because it came down to the last second and last goal. There were several times during the playoffs where we were down, but came back in the end. We just kept finding a way to win. It's..a euphoric feeling. You're drained mentally and physically but when you win it's all worthwhile.
Q: What do Blast fans mean to you?
They mean everything. They're very welcoming. Before I played my first game, they dropped off a welcome basket at my apartment. They're there every game. I call them family. I wouldn't want to play in front of anyone else.
Q: How did you get involved with the Show Your Soft Side campaign?
They came to us as a team, and after hearing what they were about, I knew I wanted to be a part of it. We're lucky to have such a great organization here right in our backyard.
Q: For my readers who may not know, what is Pawject Runway?
Show Your Soft Side and BARCS come together to raise awareness for animal abuse.  Pawject Runway is an event where celebrities walk the runway with a cat or dog, in hopes of getting them adopted. It also reinforces the idea of 'Only a punk would hurt a cat or dog.'
Q: Is this your first year?
It is! I've been practicing my runway walk for a while now. ::both laugh::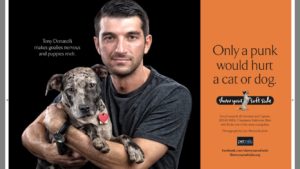 Pawject Runway is THIS Saturday at 6pm at The Royal Farms Arena!
Follow Baltimore Blast on Twitter
Visit the Show Your Soft Side Official Site
Follow Show Your Soft Side on Twitter
'Like' Show Your Soft Side on Facebook