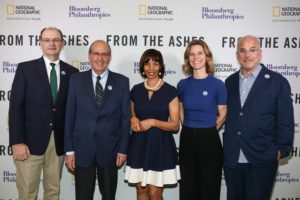 Film invites audiences to learn more about an industry on the edge and what it means for their lives
Baltimore, MD (May 10, 2017) – Mayor Catherine Pugh and Bloomberg Philanthropies joined forces to host a screening of National Geographic Documentary Films' – From the Ashes – at the Parkway Theatre this evening. Directed by award-winning filmmaker Michael Bonfiglio, produced by the Academy Award- and Emmy-winning production company RadicalMedia and supported by Bloomberg Philanthropies, From the Ashes explores one of the country's most contentious topics — energy production, coal and the mining industry.
From the Ashes captures Americans in communities across the country as they wrestle with the legacy of the coal industry, and what its future should look like under the Trump administration. From Appalachia to the West's Powder River Basin, the film goes beyond the rhetoric of the "war on coal" to present compelling and often heartbreaking stories about what is at stake for our economy, health, climate and communities.
"Our foundation is joining mayors around the world to host screenings and discussions in their cities about the transition away from coal.  We have great partnerships with mayors because cities are a big focus of our work," said Michael R. Bloomberg. "This is a life-or-death issue that affects billions of city residents, and mayors really are eager to help spread the message."
Inspired by personal stories featured throughout the film, Bloomberg Philanthropies has launched a national fundraising campaign with CrowdRise to assist local groups in coal-impacted communities that are working to help out-of-work miners develop new job skills and find alternative career opportunities as America makes the transition to cleaner energy. When a donation is made on CrowdRise to Coalfield Development Corporation, the Just Transition Fund, and the Western Organization of Resource Councils, Bloomberg Philanthropies will match a portion of donations and cover all transaction fees.
"We also hope it will bring more attention to local efforts to help coal communities that are suffering from job losses – a challenge that the federal government has ignored for far too long. We can't pretend that coal isn't deadly. We can't pretend that coal doesn't contribute to climate change.  And, we can't pretend that coal jobs are coming back. We have to do something about each of those challenges – and that's what this movie is all about."
A panel discussion immediately followed the screening. From the Ashes premiered at the 2017 Tribeca Film Festival to sold out audiences in April. Beginning June 25th, From the Ashes will air globally on National Geographic in 171 countries and 45 languages.
About the Panelists:
·      Tom Burke, Former Deputy Assistant Administrator of Environmental Protection Agency's (EPA) Office of Research and Development (ORD) & EPA's Science Advisor
o   Thomas A. Burke, PhD, MPH, is the Jacob I and Irene B. Fabrikant Professor and Chair in Health Risk and Society at Johns Hopkins University Bloomberg School of Public Health, Department of Health Policy and Management. He holds joint appointments in the Department of Environmental Health Sciences and the School of Medicine Department of Oncology. He is also Director of the Johns Hopkins Risk Sciences and Public Policy Institute. Dr. Burke was nominated by President Barack Obama to serve as EPA Assistant Administrator for the Office of Research and Development. From January 2015 until January 2017 Dr. Burke was the EPA Science Advisor and Deputy Assistant Administrator for Research and Development. His research interests include environmental epidemiology and surveillance, evaluation of population exposures to environmental pollutants, assessment and communication of environmental risks, and application of epidemiology and health risk assessment to public policy. Before joining the University faculty, Dr. Burke was Deputy Commissioner of Health for the State of New Jersey and Director of Science and Research for the New Jersey Department of Environmental Protection. In New Jersey, he directed initiatives that influenced the development of national programs, such as Superfund, the Safe Drinking Water Act, and the Toxics Release Inventory. Dr. Burke served as a member of the National Academy of Sciences Board on Environmental Studies and Toxicology. He was Chair of the National Academy of Sciences Committee on Improving Risk Analysis that produced the report Science and Decisions, and chaired the NAS Committee on Human Biomonitoring for Environmental Toxicants and the Committee on Toxicants and Pathogens in Biosolids Applied to Land. He also served on the NAS Committee on the Toxicological Effects of Methylmercury. He is a Fellow of the Society for Risk Analysis and a lifetime National Associate of the National Academies. He was Inaugural Chair of the Advisory Committee to the Director of the CDC National Center for Environmental Health and a member of EPA Science Advisory Board and Board of Scientific Counselors. Dr. Burke received his BS from St. Peter's College, his MPH from the University of Texas and his PhD in epidemiology from the University of Pennsylvania.
·       Tisha S. Edwards, MSW, JD, Chief of Staff, Mayor's Office – City of Baltimore, Moderator
o   Over the last 15 years, Ms. Edwards has leveraged a series of executive leadership positions in both the public and private sectors to champion the interests and needs of underserved populations and communities. Following six years at the helm of Baltimore City Public Schools, where she served as Chief of Staff and interim CEO, Ms. Edwards took her passion for community and families to corporate philanthropy as the Executive Vice President of the JS Plank and DM DiCarlo Family Foundation.  Ms. Edwards is currently working as the Chief of Staff for the newly elected Mayor of the City of Baltimore, Catherine E. Pugh.  During her leadership tenure at Baltimore City Public Schools, Ms. Edwards guided 11,000 employees through a series of bold academic, structural and operational reforms, and an accompanying cultural shift that placed the needs of students at the center of all district decision making. Integral to the success of these reforms were Ms. Edwards' own successes in forging collaborative partnerships between district staff, teachers, unions and other key stakeholders; expanding and improving student supports, particularly at the high school level; elevating the importance of school climate in academic achievement and overhauling the district's code of conduct; increasing transparency through data and communications; and institutionalizing data-driven decision making throughout the district.  Prior to her time at Baltimore City Public Schools' district office, Ms. Edwards founded and led a Baltimore City public high school, where she, her students and staff secured academic success and recognition in the first few years. Before that, she served as Chief Operating Officer for Empower Baltimore Management Corp., where she led the agency's efforts to strengthen the social and economic development of Baltimore's distressed communities; and as program coordinator in the Fulton County Juvenile Court, where she guided the transition of adjudicated youth back into the community.  Ms. Edwards is now applying her extensive professional experiences to her work in the Mayor's office, where she is responsible for public safety, constituency services, and education and youth development. Ms. Edwards participates on the boards of various organizations including the Governor's Commission on Service and Volunteerism, Delta Sigma Theta Sorority, and The Baltimore Design School. She was named one of 50 Women to Watch by the Baltimore Sun in July 2013.  Ms. Edwards earned a bachelor's degree from Georgia State University in Atlanta, GA and a Juris Doctor and Masters of Social Work degree from the University of Maryland.
·       Jon Kamen, Founding Chairman and CEO, RadicalMedia
o   Founding Chairman and CEO Jon Kamen's artistic vision has solidified RadicalMedia's position as one of the leading generators of premium content, distributed worldwide in nearly every medium possible, including television, film, graphic and interactive design. Under his leadership, RadicalMedia has created and produced numerous acclaimed projects such as the Academy Award-winning The Fog of War; the Academy- and Emmy Award-nominated Paradise Lost documentaries for HBO; and the Academy-nominated and Emmy-winning Netflix documentary What Happened, Miss Simone?. Recent series include MARS, the National Geographic six-part global miniseries event and Netflix's eight-part docuseries, Abstract: The Art of Design, which just had its world premiere at the Sundance Film Festival. Kamen, a recipient of the Smithsonian's National Design Award and Mayor Bloomberg's "Made in NY" Award, sits on the board of trustees for Rhode Island School of Design, Cooper Hewitt, Smithsonian Design Museum, Museum of the Moving Image, Mr. Holland's Opus Foundation, and Jamaica Bay-Rockaway Parks Conservancy. Although Radical has offices in New York, Los Angeles, London, and Shanghai, Kamen chooses to live in NYC and is proud to be a longtime partner of Bloomberg Philanthropies.
·       Antha Williams, Bloomberg Philanthropies and Consulting Producer of From the Ashes
o   Antha N. Williams leads the Environment Program at Bloomberg Philanthropies. Under Antha's direction, Bloomberg Philanthropies supports environmental initiatives to improve sustainability of cities around the world, to accelerate the transition to clean energy, and to combat overfishing. Bloomberg Philanthropies' environment program also serves as the hub of Michael Bloomberg's personal efforts to combat climate change – including in his role as United Nations Secretary-General's Special Envoy for cities and Climate Change. Previously Antha served as Senior Vice President at Corridor Partners, a donor advisory firm focused on climate and clean energy. Antha also worked as the Advocacy Executive at Atlantic Philanthropies, where she oversaw grants to support health care and comprehensive immigration reform. As Program Officer at Beldon Fund, Antha built support for environmental issues by policymakers through grassroots organizing at the state level. Outside of philanthropy, Antha has worked as a campaigner and organizer, directing large scale voter protection efforts and serving in leadership positions for five years with Green Corps, a training program for aspiring environmental organizers. She currently sits on the Board of Directors of the C40 Cities Climate Leadership Group. Antha graduated from Dartmouth College and lives in New York.
Follow for updates on Facebook, Instagram and Twitter @FromTheAshesDoc or visit FromTheAshesFilm.com and visit National Geographic Education for educational resources focusing on coal and other sources of energy.
About Bloomberg Philanthropies: Bloomberg Philanthropies works in more than 120 countries around the world to ensure better, longer lives for the greatest number of people. The organization focuses on five key areas for creating lasting change: Arts, Education, Environment, Government Innovation and Public Health. Bloomberg Philanthropies encompasses all of Michael R. Bloomberg's charitable activities, including his foundation and his personal giving. In 2016, Bloomberg Philanthropies distributed over half a billion dollars. For more information, please visit bloomberg.org or follow us on Facebook, Instagram, Snapchat and Twitter @BloombergDotOrg.
###