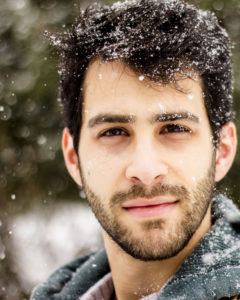 I chatted with Evan Margolis about growing up in Baltimore and his new film "Dear Sylvia"
Q: Where did you grow up?
I grew up in Pikesville in a very artistic household. My mother is an artist and my dad is a musician. Art is immersed in my bones. After college, I went back to my high school, Beth Tfiloh, to start a community theater.
Q: Talk about your community theater
It's called the Beth Tfiloh Community Theater. We do one or two shows a season. We've had professionals from the theater world be with us, as well as amateurs. It's been a great experience for the audience and for everyone involved behind the scenes.
We're doing "Pippin" this summer. We're having auditions shortly, actually.
Q: What is your favorite Orioles memory?
My grandfather is 95. My dad, brother and I took him to  a game recently. He stopped going because he was going blind. A little back story..he previously lived in Arizona so he knew Manny before we knew Manny. So my grandfather had a bromance with Manny Machado essentially.  ::laughs::  During  the game, my dad would whisper in his ear what was going on. He was my grandfathers personal play by play. All he kept asking was how Manny was doing ::laughs::
Another memory I have was during the Divisional Round in the playoffs when we played The Royals. I dressed up as an orange man, and would walk around and dance with fans and kids. The reactions were priceless.
Q: What is "Dear Sylvia" about?
The film is about film and Broadway actress Sylvia Gassel, who developed dementia and ended up in a nursing home in Long Island. She had no family, nothing going on in her life. Her closest living relative is my mother. We went to visit her and she said that all she wanted to do was work as an actress again. We decided to write a film, which we shot in her nursing room. This documentary is the behind the scenes process of that as well as looking into her past.
Q: What was the most challenging part of filming this?
The most challenging part was the moral questions we had in filming it. A lot of them are addressed in the second part of film. We had this woman who wanted nothing more to be a star on stage. Because of her memory loss, there were lots of conversations that we had..such as the death of her husband, what her life had become. We have very RAW conversations, which were great. But there were also the questions if we should ethically be doing this if she's not entirely conscious. There's a point where she questions us and tells us we shouldn't be doing this. We stopped right then and there, and had a really honest conversation. She had a lucid moment and was challenging myself and the crew.
Q: Are you excited to bring this home to Baltimore?
Couldn't be more thrilled. We shot it partially in Baltimore..the entire crew was from Baltimore. It really belongs there.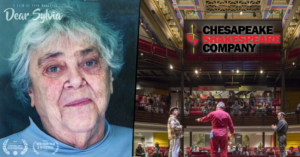 "Dear Sylvia"screens at The Chesapeake Shakespeare Company Tuesday!
Tickets can be purchased at the door for $5. All ticket sales go to the Chesapeake Shakespeare Company's Education fund!
Here's a description of Evan's next project "Harriet's World":
"Growing up is hard, growing old is even harder. So when recent high school graduate, Melanie and nursing home resident, Harriet meet, they decide to take their futures into their own hands and break out of the nursing home. On the run, Mel takes them to New York City, where, with the help of Mel's reluctant ex-boyfriend, they produce their own Mr. Rogers Neighborhood-style show, with Harriet as the host. The show is funny, sad, weird, and quickly becomes an internet sensation. But as Harriet's struggle with dementia intensifies, and the nursing home officials begin to catch up with them, Mel finds out she may be way in over her head."