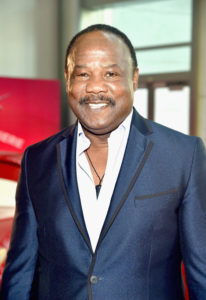 I had a great chat with Isiah Whitlock Jr about "Cars 3", "The Mist", and the fifteenth anniversary of "The Wire."
Q: Who do you play in "Cars 3?"
I play a character named River Scott. He's based off the life of Wendell Scott, who was the first African American to race and win in a NASCAR race. He was one of the pioneers. Not many people know about him. He was around in the 60's when the sport began. He was inducted into the NASCAR Hall of Fame in 2005 I believe. I'm very honored to be a part of this film and represent Wendell.
Q: What was it like being a part of the cast featuring Owen Wilson, Kerry Washington, Cristela Alonso, and Lea DaLaria?
They put together a stellar cast. It was awesome. When you get around the cast, you begin to see WHY they chose these brilliant people to represent these cars in the film. It was fantastic being able to work on a Pixar picture.
Q: You're also co-starring in the show "The Mist." What is it about, and who do you play?
The show has such a thrilling place. It's based off the Stephen King book of the same name. It's about a small town that is taken over by a mysterious mist. It traps pretty much everyone. I play the mall manager Gus Bradley. He's very full of himself..ego centric. We get trapped in the mall. It almost reminds me of "The Lord Of The Flies" in the sense that the dominant people rise, and the weak fall. It's a great character study. The show is quite frightening.
Q: Last time we talked, you were starring in "Pete's Dragon" and "CHIPS." This time you're in two very opposite projects ("Cars 3" and "The Mist.") Is it difficult to transition from role to role?
I don't think there really is much of a transition. I try to be honest in any character I bring to life. As long as you're honest, it will add to your performance.
Q: It's been 15 years since "The Wire." Why should people watch the show now if they haven't already?
The show transcends time. We see a lot of things today, that we were wondering about when the show was first airing. The Opioid crisis was featured in the show, but it's now playing out at a much grander scale in real life.
I think the acting, the writing, the directing…it will stand the test of time. I consider it Shakespeare.
I won't mention names, but when I see things that politicians are doing, they're STRAIGHT out of Clay Davis' handbook. They have that kind of ego and hubris.
Q: How excited are you for these two projects to be released back to back?
I'll be relevant for a week. ::both laugh:: It feels awesome. "Cars 3" REALLY touched my heart. I think "The Mist" will really hit with horror fans. Both projects are entirely different. I love that.
"Cars 3" is in theaters NOW
"The Mist" premieres Thursday at 10pm on SPIKE TV
Follow Isiah on Twitter
Buy the Isiah Whitlock Jr Talking Money Head
Buy the Isiah Whitlock Jr Talking Bobblehead (LIMITED STOCK AVAILABLE)