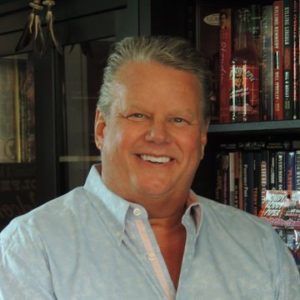 I chatted with Bruce Prichard about his career thus far and his new podcast.
Q: What was your first job in the wrestling world?
The first thing I did was sell posters. I sold them up in the stands and hustled. When I was 12, I was the assistant director on a TV show, 16 I was refereeing, and by 18 I was running the place.
Q: What was it like playing Brother Love?
It was fun. Being able to have an alter ego was a lot of fun. I had a blast because i could be someone else.
Q: What was it like working with Vince McMahon.
Intense. Absolutely intense. Everyday was an adventure, and never boring.
Q: What has been your favorite memory of your career thus far?
There's been so many. As a performer, being able to go out there and perform Wrestlemania in my hometown of Houston was pretty great. Behind the scenes, you get a high when you have an idea and then it comes to fruition.
Q: Why did you start a podcast?
I don't know. ::laughs:: Conrad Thompson asked me to do it, but I told him 'No' at him first. He was on me for quite a while until I caved in. I didn't think I would be very good at it. We did it, we tried it. I love it. It's been a sound board for me to tell some of my old stories. It's cool having people tweet me back, or to see their comments elsewhere. It's a difficult thing to do, but you can get help from places like Lower Street with production and growing your audience, and it's so worth all of the hard work in the end.
Q: What was it like getting back into the business?
It's not hard. The business is just an all consuming one. It's in your blood. It's very difficult not having that juice running through you day in and day out.
Q: Why do you think your podcast is one of the most popular ones out there?
I think it's because we're different. We don't have an interview format. We just tell our listeners what we want to hear about. We're very interactive with the audience, and I think people appreciate it.
Q: Are you excited about your live show here in Baltimore next week?
Man I can't wait! The folks over at Jimmy's Famous Seafood thought it would be a great time. We just can't wait to have some crab cakes ::laughs:: Baltimore has a rich wrestling history, so I thought it was a great opportunity to come back and have some fun.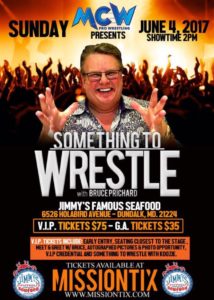 Something To Wrestle with Bruce Prichard will be LIVE Sunday at 2pm at Jimmy's Seafood!
Follow Bruce on Twitter
Follow Something To Wrestle Podcast on Twitter
[follow_me]