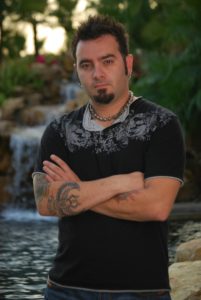 I chatted with NSYNC's Chris Kirkpatrick about his favorite memories from his childhood and his upcoming show at Maryland Live Casino
Q: When did you know you wanted to be a singer?
My mom said that I was singing before I could talk. I would just go around humming melodies and harmonies.
Q: Who inspires you musically?
Ohhhh…It's tough to say just one name. I would say music in general. I love all different kinds. Everything from Garth Brooks to Mozart..the whole gamut. Boyz II Men, Michael Jackson..all these huge entertainers.
Q: If you could describe your NSYNC experience in one word, what would it be and why?
I'm going to go with the cliche..roller coaster. There were ups, there were downs, twists, turns, cork screws, ascensions, drops. I got to experience things, travel to cities, that I don't think I would have otherwise. I had that experience with four of my brothers. They still are my brothers to this day.
Q: Was there one song that you loved performing the most?
Joey and I would always joke when we did "Bye, Bye, Bye." We did it last obviously, and we would come off stage exhausted. The kids loved it.
Q: You're a Penguins fan right?
I am!
How awesome was it to see them win the Stanley Cup?
It was bittersweet. I love them, but I live in Nashville now. Watching that town get behind the Preds was magical. It was fun for them to experience being in the Cup. I knew one way or another, I was going to be happy AND sad at the same time.
Q: Why did you start the Chris Kirkpatrick Foundation?
I grew up  really poor. My mom was a single mom with four kids, trying to make it. We were on welfare a lot. I knew who far a dollar went back then..I knew how much it meant when people would help. So when I became established, I wanted to give back to kids out there like me. When kids tell me "You don't know what it means to us",  I do. I've been there first hand.
Q: You're here this Friday hosting The Clash Of The Decades. Do you have a favorite memory from the 80s?
Concerts. Once I got enough money saved up to go, I saw some awesome rock bands in Cleveland. KISS, Motley Crue, Poison..it was always amazing to experience the band, the merch, the venue..things like that.
Q: Favorite memory of the 90's?
It's funny, it's on the other side of that. Touring myself. Being on the road, getting to go to Europe. The music in the 90's was great. It's coming back, man. Reliving the whole Britney Spears, Christina Aguilera, Backstreet Boys, NSYNC..it's crazy because I grew up AND got to be a part of it.
Q: Are you excited about Clash of The Decades this weekend?
Oh yeah, this is so much fun! I get to jump up on stage and sing some classic 80's and 90's tunes with the bands. The bands are so talented, and great at what they do. It's also great to just hang with the people who show up and party a little bit.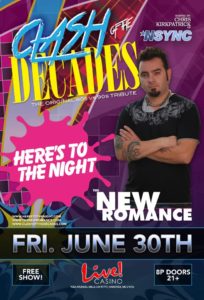 Clash Of The Decades takes place this Friday at Live Casino, hosted by Chris Kirkpatrick and featuring Here's To The Night & New Romance!
The show is FREE to attend, but please be 21 and over!
Follow Chris on Twitter
Chris Kirkpatrick Foundation Official Website
Here's To The Night Official Website
New Romance Official Website