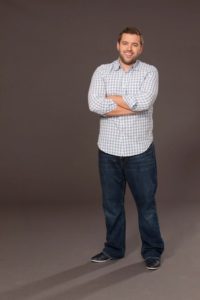 I chatted with The Kane Show's Intern John about his radio career and upcoming standup tour
Q: Talk about where you grew up and your childhood
I'm from St. Paul, Minnesota. When I was seventeen, I started as an intern at the local radio station. Getting coffee, stuff like that. I started from the bottom and gradually moved up.
Started from the bottom now you're HERE?
Basically ::both laugh::
Q: What is your favorite part of being a co-host on The Kane Show?
Kane gives me a lot of room to do other things. Podcasts, TV stuff, and now the comedy tour. It's nice to have someone encourage you and push you.
Q: What are your thoughts on social media? Is it important?
Social media changed the GAME as far as customer service. If you were on an airline and had an issue in the 90's, they wouldn't have cared. Now with social media, you can reach them directly. Also, you can see what people are reacting to and what's trending worldwide. It helps for promotion, especially for this comedy tour.
Q: How did the comedy tour come about?
My girlfriend's friend was diagnosed with cancer after joining the army last year. We flew down to see in her San Antonio. I remember asking 'what can we do?'
Throughout my radio travels, I got to know Pete Davidson from "SNL." We saw him do standup a couple times as well. I remember turning to my girlfriend and saying "I should do standup." She laughed. It's one thing being funny on the radio show, but I wasn't so sure about actual standup.
Q: Were you nervous your first show?
I remember doing the whole routine for my girlfriend before the show, and she loved it. I got up on stage and just forgot everything. I slowly regained everything. You're supposed to do three minutes then work your way up. I did it backwards! ::laughs:: It's such a mental workout.
Q: Are you excited about your shows here in Baltimore?
I'm pumped! The venue itself is really fun. Baltimore is fun in general. People from Baltimore remind me of people Minnesota because they're proud of where they're from. The first show is sold out, which is DOPE. It's weird..it took a long time to get this thing planned, and it will be over in a flash. I've been trying to take notes and save things so I can remember the journey.

Intern John's Peer Pressure Comedy Tour hits Rams Head Live July 14th!
8pm show – SOLD OUT
11pm show  – Buy Tickets
Follow Intern John on Twitter
'Like' Intern John on Facebook