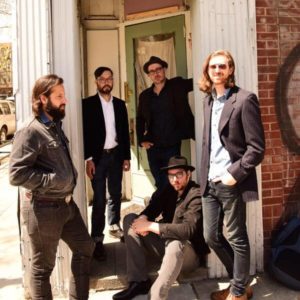 I chatted with Hollis Brown about their funky band name and their experiences around the world.
Q: How did Hollis Brown form?
We formed in Queens, NYC. We met in high school and we bonded over a few records like Ziggy Stardust and The Velvet Underground and no one else was really into that stuff like we were so we started writing songs and we are still going.
Q: Is there a story behind the band name?
We had heard the Rolling Stones took their name from a song and it worked out for them so we decided to do the same thing and found an obscure Bob Dylan song called "The Ballad of Hollis Brown."
Q: What is your favorite song of yours and why?
Hard to say, It kind of changes with what's going on musically. Sometimes I'm into "Rain Dance" because of the Bo Diddley connection, other times I like "John Wayne." Hate to choose because I feel connected to them all.
Q: How have you grown since your first release in 2009?
We've learned what to do and what not to do I think. We are more well oiled and have played some of the biggest stages in the world and also some of the smallest so nothing really intimidates us at this point.

Q: If you could record a duet with any artist, who would it be?
Ryan Adams.
Q: What was it like filming your music video for "Sweet Tooth?"
Was chaotic. Running around New York City, kind of rogue, going into our friends bars in Williamsburg and the Lower East Side and asking for favors!
Q: Are you excited about your slot at WTMD's First Thursday next week?
Absolutely, we love the station and we love the energy involved. Let's get some good weather and have a good time!
Hollis Brown performs at WTMD's First Thursdays next week!
Follow Hollis Brown on Twitter
'Like' Hollis Brown on Facebook
Follow Hollis Brown on Instagram