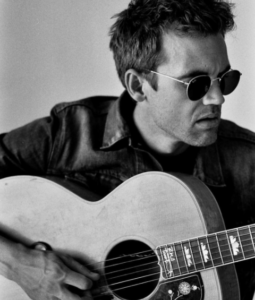 I chatted with singer/actor Tyler Hilton about his struggles, his successes, and the future.
Q: When did you know you wanted to be a musician?
Ever since I can remember. It was never a question of "if" growing up, but what instrument and what area of music I'd go into.
Q: Who inspires you? (Musically OR personally)
People that are more than just one thing: free thinkers, hard workers, a penchant for morality. They're hard to find but they fascinate me, I learn so much from them. Drake, Matt Damon, Lena Dunham.
Q: What is your favorite part of performing live?
My brain turns off and I'm just flying on instinct. There's too much happening to think anything through for me on stage. I can just hear myself talking and singing and always have to ask someone after the show, "How'd it go?"
Q: What is your favorite song of yours and why?
"Next To You" was so personal I didn't think I'd release it. That one was for me and was only on YouTube until the producers for "Pitch" found it online and asked me to play it on the show. I recorded it at that point but it still felt weird.
Q: What has been your biggest struggle in your career so far?
Switching back and forth from open creativity to guarded business decisions.
Q: Biggest success in your career so far?
Playing Elvis in "Walk the Line" is right up there. I was such an Elvis freak my whole childhood that the serendipity of getting to play him was really special.
Q: How have you grown since your first album?
I'm better and knowing which of my ideas suck, and which of other peoples are better. I get better and better and creating what I meant to in the first place now. My aim is better.
Q: You've been in several TV shows/ films such as "One Tree Hill", "Extant", and "Walk The Line." Would you like to do more acting?
Yea I love it!
Q: Any other upcoming projects you can talk about?
I have a new song about to be released called "Overtime" that I wrote and recorded w Kate Voegele I can't wait for you to hear! It's been our favorite to play live when we tour together.
Q: What do your fans mean to you?
They're literally everything. They're the reason my passion isn't just my hobby. I feel like they get me on a level that even people I'm close with in my personal life don't understand about me. I can't explain it, but I feel like we have this thing no one else understands.
Q: Are you excited about your show here in Annapolis the 16th?
Yes! Been awhile since I've been in town but have great memories from there from tours past!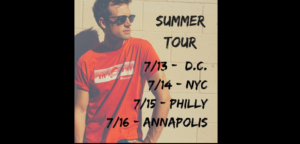 Tyler headlines a matinee show Sunday July 16th at Rams Head Annapolis!
Buy tickets (12pm show)
Follow Tyler on Twitter
'Like' Tyler on Facebook
Follow Tyler on Instagram