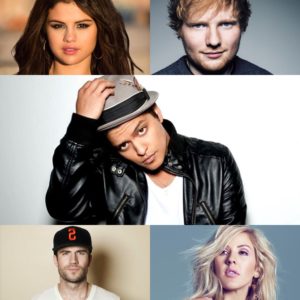 What songs will define 2017? Find out below!
Song Of The Summer: "Versace On The Floor" by Bruno Mars
No question this is my favorite song this summer. It's romantic, it's funky, it's a throwback to the late 80's/90's slow jams.
It makes me want to grab that special someone and pull her a little closer..
Bruno Mars just knocks it out of the park with this one.
Kygo featuring Ellie Goulding "First Time"
Ahh yes..one of my lists wouldn't be complete without Ellie Goulding somewhere. I'm serious. Bae.
I absolutely dig the beat..the "chorus" makes me go insane. Ellie's voice is glorious as always. Too bad this one isn't getting a lot of airplay. Another great Kygo production.
Sam Hunt, "Body Like A Back Road"
Love this tune. "I know every curve like the back of my hand.." Yowza.
Kygo featuring Selena Gomez
Yeah, yeah, I know..this song came out a while ago. I've hated this song for so long, but it really started to grow on me the past few weeks. Perfect tune to blare while sitting by the pool with your boo.
Luis Fonsi featuring Daddy Yankee and Justin Bieber, "Despacito"
This will probably end up being the hottest song of the summer. Literally.
Imagine Dragons, "Thunder"
This new Imagine Dragons tune is DOPE. Hands down the rock anthem of the summer.
Starley, "Touch Me"
Shout out to my girl Neci over at MIX 106.5 for recommending this one. Great track!
James Arthur, "Say You Won't Let Go"
I suspect this is just one of many great ballads from James Arthur. What VIVID lyrics.
Ed Sheeran, "Castle On The Hill"
A spot on song about friendship. I love the beginning of the chorus, when it roars "I'm on my way.."
Drake, "Signs"
So this isn't the actual version of "Signs." Apparently Drake doesn't allow much of his music on YouTube, so here's a cover. However, the song is great, and definitely a contender this summer.
R5, "If"
Just heard this tune this past week, and started bopping my head to it. A worthy dance pop summer tune for this list
The Chainsmokers featuring Coldplay, "Something Just Like this"
Another February holdover, but this duet is still rocking in Summer 2017.
What are YOUR favorite songs of this summer? Tweet me @BaltMediaBlog or comment on my Facebook wall!