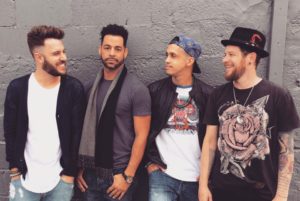 I chatted with Jacob Underwood from O-Town about the bands legacy and what it means to still be performing.
Q: You've been doing this for a while now. What have you learned about yourself since "Making The Band?"
It's better not to take some things too seriously. We're blessed to do this for a living. You've seen our shows..back then we were so serious if someone missed a note, or a dance move. But now, it's like a big party on that stage.
Q: ABC has a new show called "Boy Band." What would your advice be to those contestants?
Broadly, go into this knowing what you want, and stick to that. It's a great opportunity, but it won't be the only one. If it's not a natural fit, don't force it.
Q: Your fans raised over $81,000 on a recent Kickstarter to help fund your next project. How does it feel knowing that they raised that INSANE amount of money?
We thought it would be a month long campaign, but it was funded in 7 hours. When we play a show, we always ask if any of them donated, and the response is massive. It's incredible to have that type of connection with your fans.
Q: You kind of just touched on this, but what do your fans mean to you?
Everything. We rely on them for our livelihood ::laughs:: I have a business degree, but this is what I LOVE to do. We've been back to these cities a handful of times, and we have a core fan base there. Some fans will follow us to four or five dates, and then we'll see them a few months down the line again. We started doing two week regional tours because Dan is a full time dad. He needs that time with his family.
Q: What is the most difficult part of the business in your opinion?
That's a tough one. I guess it would be breaking in, and somehow becoming a constant. We're blessed in having core fan support still.
Q: A few weeks ago you 'Boy Band'ed' with NKOTB in Anaheim. How fun was that?
That. Was. AWESOME. They're some of the humblest guys in this industry. They're like us, they want to just throw a damn good party on stage. They're the only band I know that shoots off confetti during the third song ::laughs:: 
Q: Why do you think "All Or Nothing" still resonates so many years later?
We knew day one it was a special song. We're just so lucky to have been able to record it. You heard that term so many times, and then to have a song use it? Brilliant.
During the second chorus, I always clench my fist and just..
You go for the sky don't you?
EXACTLY.
::both laugh::
Q: What is the best piece of advice someone has given you about the business?
"It's the music business, not music friends." You want to hire your friends and family, and that becomes a problem. We stayed away from that after seeing other bands go through it.
Q: Are you excited to headline Fish Head Cantina on July 20th?
Absolutely! It's fun to be able to get back with Ryan Cabrera. We have a similar fan base. Our My2K set lists were small compared to what we usually do, so this gives us a chance to play for a whole hour.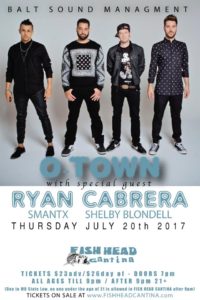 O-Town headlines Fish Head Cantina Thursday, July 20th.
Buy tickets (They're going fast!)
Follow Jacob on Twitter
Follow Jacob on Instagram
Follow O-Town on Twitter
'Like' O-Town on Facebook
Follow O-Town on Instagram