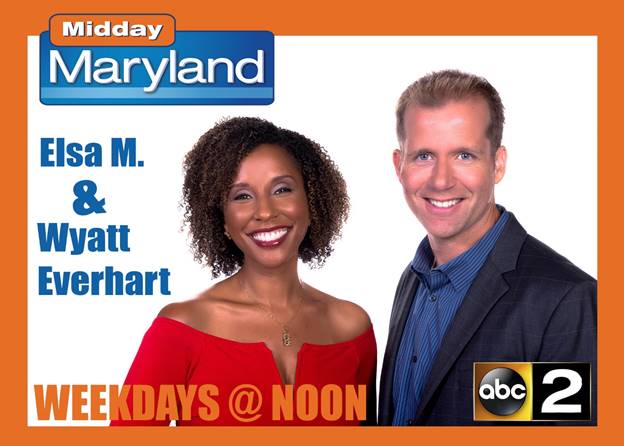 FOR IMMEDIATE RELEASE
 ABC2 premieres "Midday Maryland," locally produced and hosted lifestyle program
August 14, 2017
BALTIMORE –WMAR ABC2 will premiere the new, lifestyle program Midday Maryland on Monday Sept. 11at 12 p.m. on WMAR-TV. The locally produced show, hosted by Wyatt Everhart and Elsa M., will feature everything Maryland has to offer, from local and across the state hotspots and chefs, to tips and tricks from local experts.
"Our team has been working on this new show for the past year. That includes everything from content to sets, personnel and presentation." said Bill Hooper, vice president and general manager at WMAR ABC2. "We have a winning combination that our audiences will love with Wyatt and Elsa. Both bring great perspective, wit and humor to this show and viewers will appreciate the wealth of information they can get from it."
Everhart, who hails from Ocean City, Maryland, started as a freelancer when he joined the WMAR news department in 2008. He was chief meteorologist for the past 5 years and was ready for a new opportunity in connecting with audiences. In his new role, Everhart will be working on air and behind the scenes with the sales and production departments.
"This is a great, natural progression for me," said Everhart. "While I still love the science of meteorology, I have always truly enjoyed getting outside of the station to talk to viewers and visit events across the area. This will be a new and exciting challenge that I hope viewers will share with me as we launch this September."
A native Wisconsinite, Elsa M. has been proud to call Maryland home since 2010. Most recently, Elsa was able to fully explore her love of Baltimore as senior community and marketing director for Yelp Baltimore.
"This show encompasses all of my passions and celebrates our community and local business owners in such a unique way," said Elsa "I have explored so many wonderful places in Baltimore and met talented entrepreneurs, and I look forward to sharing those stories with Midday Maryland audiences."
Midday Maryland will be a half-hour formatted show that features a mix of interviews, on-location segments and in-studio cooking, fashion and do-it-yourself demonstrations. The weekday show airs between ABC's "The View" and "Right this Minute," a Scripps-produced news and viral video show.
About WMAR & Scripps – WMAR-TV was the nation's 11th (and Maryland's first) television station to sign on-the-air in 1947. The station has been the site of many technological breakthroughs: first with a color film processor for television news and production, and the first zoom camera lens for film and tape cameras. WMAR is owned by the E.W. Scripps Company.
The E.W. Scripps Company (NYSE: SSP) serves audiences and businesses through a growing portfolio of television, radio and digital media brands. With 33 television stations, Scripps is one of the nation's largest independent TV station owners. Scripps runs an expanding collection of local and national digital journalism and content businesses, including Newsy, the next-generation national news network; and podcast industry leader Midroll Media. Scripps produces original programming including "Pickler & Ben," runs an award-winning investigative reporting newsroom in Washington, D.C., and is the longtime steward of the Scripps National Spelling Bee. Founded in 1878, Scripps has held for decades to the motto, "Give light and the people will find their own way."