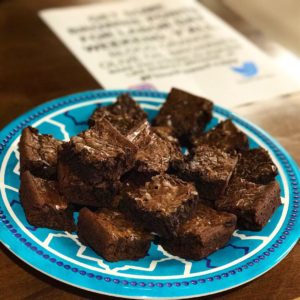 In the dead of night (a hot one I might add), I sat down with the man (OR WOMAN) behind Flour Power Friday. We chatted about his..or her..love for cooking.
Q: Where were you born?
Well, some people call me the Batman of Baked Goods, so I would say Gotham.
Meh..I'm from Baltimore. Doesn't matter where I'm from, it matters where I'm going..hopefully my cookies in your belly!
Q: What is the difference between cooking and baking?
Baking is more of a science, and cooking is more of art. Cooking is like Jazz..you can make it up as you go along. Baking has to be more precise. That's why you use cups, scales.
Q: When did you start to bake?
I started to bake a few years after I began cooking. Was never really a fan of baking. Sugar, flour, and butter make the world go round.
Was it to impress a chick?
Well…yeah…women appreciate men who can cook and bake.
Q: So since you're called the Batman of Baked Goods..what is your favorite "Batman" movie? Just for shits and giggles.
Oh boy. It's a tie between "The Dark Knight" and "Batman Forever." I've watched that one SO MANY times.
Q: What is your favorite thing to cook? NOT bake, COOK.
::takes cookies out of oven:: These things look SEXY.
I don't have one specific dish, but I love cooking ethnic food. You'll learn a lot about somebody, a country, a culture.
Q: What is your favorite thing to bake?
Ohhh..Chocolate Chip cookies. They're the best you'll EVER HAVE. The first thing I ever baked for this blog was banana bread. Not just any banana bread, BOOZY banana bread. Kahlua, triple sec, bourbon, apricot liquor..
You're trying to get me drunk. NEXT!
Q: What is your favorite thing to drink?
BOURBON. Bour-bon.
I should've known.
Q: What advice would you give to novice cooks out there?
Keep on doing what you're doing. Don't be afraid to experiment.
Q: Why did you start this anonymous blog?
Well, I love to cook and bake obviously. But I think people can connect with food. It's cool to reach to people anonymously and have great conversations about food. It brings people together.
Follow Flour Power Friday on Twitter
Follow Flour Power Friday on Instagram