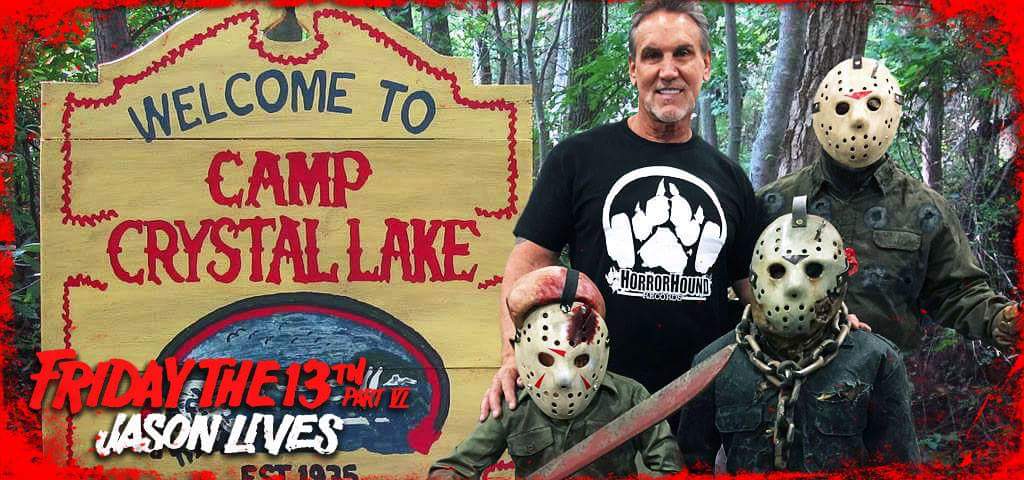 I sat down with Jason Voorhees himself, C.J. Graham, about his experience as the machete wielding killer, and the fandom that came with it.
Q: How were you cast in "Friday The 13th Part 6?"
I was a general manager of a night club in Los Angeles at the time. I was doing a stint with a hypnotist, which I had on Thursday nights. I shot a promo video for him. In one of the scenes, they decided to do a Jason scene. The crew that shot the promo happened to be the crew doing the special effects on "Friday The 13th Part 4." So, they had the Jason wardrobe already. They threw it on me, and the rest is history.
Q: What was your experience on set like?
I didn't know what to expect. It was such a POSITIVE experience for me. I got beat up a little bit, but that's expected when you're doing stunts. Thirty years later, it's great to see how iconic those films have become.
For me, Part 6 had some comedy..but it wasn't over the top silly comedy. It had some great scares, and it probably re-energized the franchise.
I hope so! Being a novice to stunts, it was definitely a red flag. But the Director and Stunt Coordinator had faith in me. I was lit on fire under water, i was jerked back on cables time and time again..
Tom McLaughlin had a vision for Part 6. There was some comedy, but just enough to keep an edge. Tom had no nudity in it either. I'm the only Jason to have a Rock N Roll Hall of Famer do the songs for the soundtrack. Let's not forget the awesome "007" beginning ::laughs::
Q: What was it like being part of the video "The Man Behind The Mask?"
It was pretty cool! Alice Cooper and I did some photo shoots for that together. There's some photos with us with each others masks on. I've been able to see him here and there over the years and we always have a laugh. Ironically, I saw him in concert when I was sixteen back in Seattle.
Q: Was there one scene or stunt that was hard to pull off?
I wouldn't say 'hard', but the most challenging one was being in Los Angeles in a Olympic sized diving pool, chained to the bottom filming the fight scenes. The chain that was around me was real, it wasn't going to come off. The safety divers would come in often and give me air. You had to be nice to them because if you weren't, you weren't going to live ::laughs::
Q: Looking back, what has it meant to you being able to play such an iconic character?
At the time, it didn't resonate because the Jason Voorhees brand was still developing. Up until and including Part 6, Jason was just another character. Starting in Part 7, he became the principal character. I have to give Kane Hodder props. He played Jason in Part 7,8,9, and 10. Every weekend, he's either at a convention or a film festival. He's been out there selling Jason for twenty years. I give him so much love for that. I'm so proud to be a part of that group of guys who love this brand.
Q: Are you excited about Monster Mania this weekend?
This is my first time doing a Baltimore show! Dave, the promoter, asked me a while back if I could join. I'm really excited! We'll be doing a wardrobe photo op with me in my Jason costume. The show should be HUGE, lots of big names. I'll be there Friday, Saturday, and Sunday. Saturday is the Jason Voorhees in costume photo-op. It should be a blast!
C.J. Graham is a special guest at this weekend's Monster Mania!
Ticket info + Photo Op Pricing Info