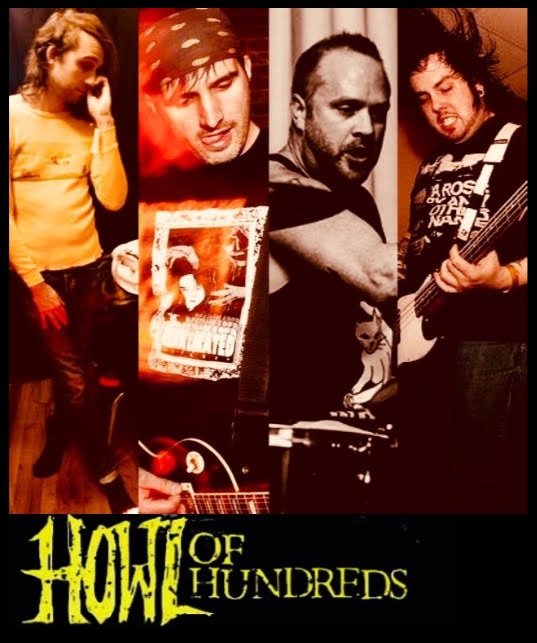 I chatted with Brian and Jaysin from Howl of Hundreds about their new song "Lash Caress" and about The Blink Man, a scary Ellicott City legend!
Q: Who/What is Howl Of Hundreds?
Brian: We're a four-piece band of guys from the Baltimore/Harford County area of Central Maryland. We pretty much all have other ongoing musical projects or have been in active bands in the recent past. Ryan King (Ramyn King/Cetera) sings. Zak Concannon (Old Bay Thrashers/Chaotix) drums. Jaysin Thompson (How Tragic) plays bass. And Brian Goodman (Ninety Six Ghosts/Subsist) plays guitar. Howl of Hundreds was a fun idea that lets us do some different things musically than we had been doing in our other endeavors.
Jaysin: The IDEA of Howl of Hundreds actually started years ago with me approaching Brian with a CD-R of a handful of different horror bands that I thought he might possibly be into in hopes of talking him into doing this project with me.. A few years later he finally gave in and agreed to work on this project with me! Three ex-members and 18 months later, here we are!
Q: What is your song "Lash Caress" about?

Jaysin: "Lash Caress" came to be when Brian was telling us about this local folktale of the "Blink Man" of Ilchester. We all thought it would be a fun topic to write about since we're all into these sorts of crazy local legends, and we ended up making it a single. There's actually gonna be a hike at the Ilchester Tunnel this week that we'll be going to in hopes of trying to give some credence to the tale!

Brian: If you've lived in Maryland long enough, you know the Old Line State is filled with old ghost stories and legends. We have headless ghosts, haunted houses, bigfeet, goatmen, sea serpents, a little bit of everything. But the story of The Blink Man (aka Peeping Tom or the Flickergeist of Ellicott City) is one of the creepiest and seems to be unique to our area.
So, the way it goes is, if someone stares into the old Ilchester Tunnel for a solid hour – from 11 p.m. to midnight – without blinking, The Blink Man will appear. Once Peeping Tom emerges, he doesn't go away and whoever conjured him keeps seeing him getting closer and closer every time they blink. Eventually, the ghost gets so close that you can supposedly feel his eyelashes tickling your face, as it tries to get you to blink one last time. Or, as Ryan, wrote it…"one lash caress."
Q: What are some other local legends you might like to write about?

Jaysin: Some of my favorite local urban legends are Black Aggie and the Goatman! I actually have a tattoo idea that incorporates the both of them. Everyone knows about Chessie too, though that's not one of my favorites. Ideally, eventually, I think it would be a lot of fun if we could do an EP of just local legends and pay homage to our home state. I think it would be a lot of fun to do an EP or a series of singles based around local tales.
Brian: I have been writing stories about weird mysteries, monsters, and hauntings in the Maryland area for almost 20 years now and continue to do so. It's a lot of fun to have a musical project now that can incorporate some of those tales in tunes. Not to give too much away, but I think the world deserves some songs about Moll Dyer (the witch and her cursed rock), Baltimore's infamous Poe Toaster (cemetery phantom), or the Snallygaster (Western Maryland's mountain dragon).
Q: What is your favorite part of the Halloween season?

Jaysin: My favorite part of Halloween? Man, this is tough. What ISNT to like about it? I think the Misfits said it best when they said "This day, anything goes". It's the one day where it's FUN to be scared. It's the one holiday where everyone can just be someone/thing else. They get to forget about the doldrums of every day life for a few hours and just let loose. It also doesn't hurt that I get to sell a few extra t-shirts this month either hah.
Brian: I think it's amazing that things that are avoided or forbidden during the rest of the year – like staying out late, hanging around in graveyards, searching for ghosts, taking candy from strangers – are accepted and celebrated during this time of year. It's those special events, like hayrides or pumpkin carving, or ghost walks, that make this season special for me. Speaking of which, we just learned (thanks to Baltimore Media Blog) that there is going to be an actual ghost hike next weekend to Ilchester Tunnel for participants to actually TAKE THE BLINK MAN CHALLNEGE! I don't know all the details and I think the event is already full, but how cool is that? At best, we summon an urban legend in front of a crowd of onlookers (and someone dies!). At worst, we get to take a creepy hike to a tunnel a week or so before Halloween. Howl of Hundreds will be there to check out the scene and start thinking about ideas for a music video. Possibly handing out copies of our Lash Caress single too. See ya there!
Listen to "Lash Caress" HERE
'Like' Howl Of Hundreds on Facebook