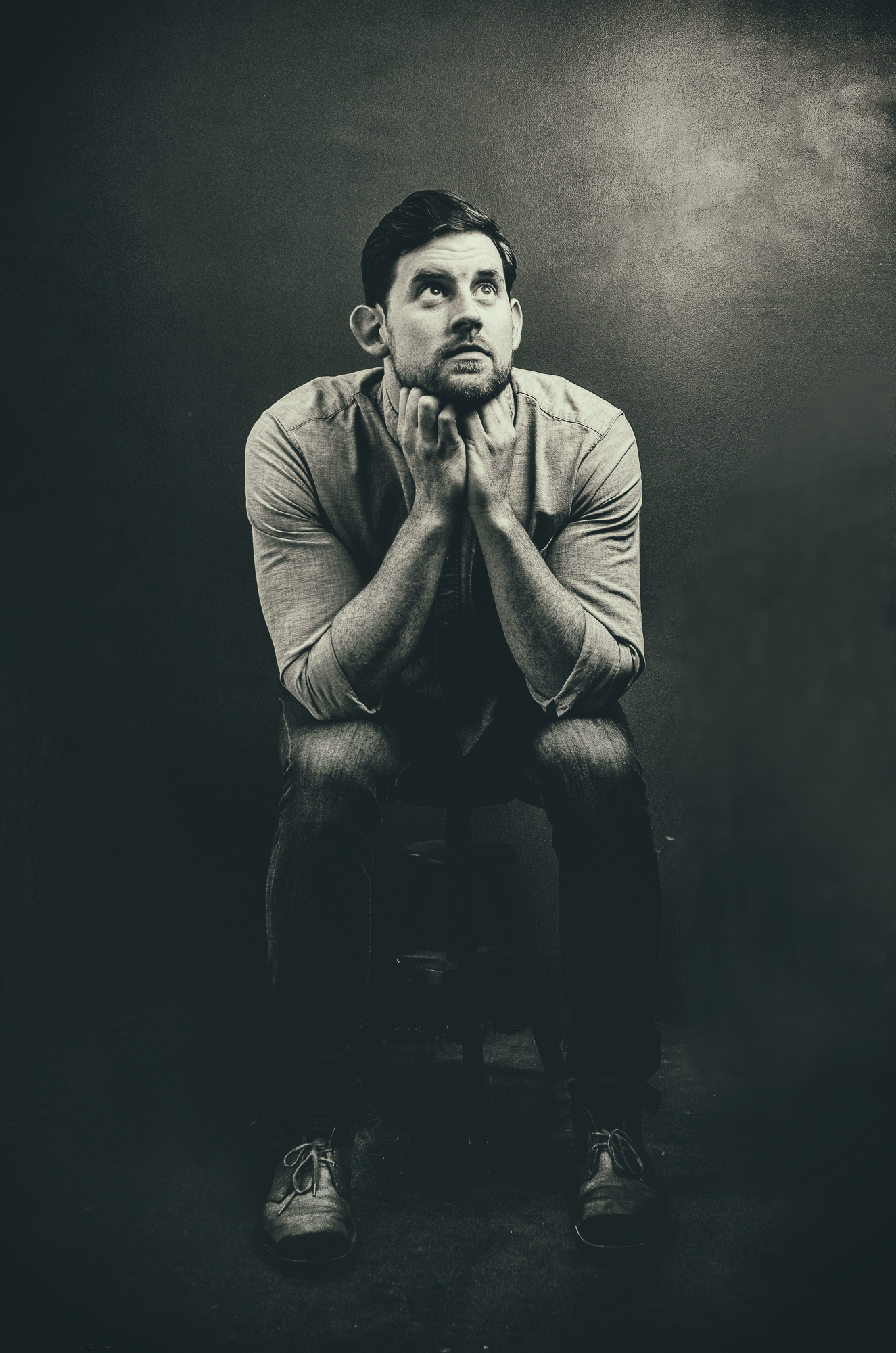 I chatted with comedian Aaron Woodall about his upbringing in Prince George's County and his comedy career.


Talk about your childhood, where you grew up, etc
I grew up in PG County, which I say because it sounds a lot cooler than saying I grew up in Bowie. As a child, I was a huge loser. I was a teacher's pet, mama's boy, L-7 weenie. In 2nd grade, I got punched in the head by a rat-tailed little shit in Glen Burnie. In 8th grade, I tried to be cooler. Puberty was being nice to me and alllll the girls were into lil' Aaron. At the end of the year, I was beyond pumped for my first dance. I had a giant gray button shirt that had black dragons on it and I put way too much gel in my hair. Tonight was my night. But sadly, my dad had other plans. No sooner had I nervously pressed my pelvis up against a girl's buttocks for the very first time, my conservative-Mormon-literal pig farmer-father showed up in Benjamin Tasker's cafeteria, scowling at the lewd and lecherous behavior on display. In horror, I watched him make his way through the sea of awkward children grinding on each other, towering 3 feet above them, a giant among tweens. He angrily escorted me from the premises and I cried in the car ride home.
When did you know you wanted to be a comedian?
I think I knew I wanted to be a comedian since I was little, I just denied the urge for a long time. I never really said it out loud because it seemed silly. But my mom says I used to quote Steve Martin jokes to adults at parties when I was 5, so that was probably a sign. I started performing a little in high school; I did awful, horrendous, improv comedy at Eleanor Roosevelt High School, which gave me a taste of the bliss that comes from being the center of attention, and I've been chasing that high ever since. I went to the Mormon-run Brigham Young University and there found a club for people interested in stand-up. That's when I first started seriously pursuing comedy. And when I graduated, I decided to turn down my one and only job offer to do stand-up full-time. I was nervous to tell my parents, but my mom said "Thank goodness! There was no way you were going to be happy doing anything else!" Which was surprising because I had only just admitted to myself that this was my dream, but my mom- the one who introduced me to Steve Martin and Bob Newhart and Saturday Night Live- had known all along. It was sweet, but she could've saved me a lot of trouble (not to mention college tuition) by telling me earlier.
What is the craziest thing you've ever done in life?
I don't know if I've done anything truly crazy in my entire life. For almost all of it, I was a very good Mormon boy. I never broke rules, made my parents proud, etc. I only started drinking and using drugs when I was 30. All these things you all did at 15, I'm doing now. And I promise you, they're not as cool at 30.
What are some pros and cons of being on the road?
I'm actually on the road right now! Everything on the road is fantastic until it's not fantastic anymore. I actually like driving, but not after having driven 6,000 miles in single month. It's nice to be alone with my thoughts, but only if your thoughts are happy. After my wife left me, driving across the country became the saddest exercise in the world. But you've got audio books to keep your mind occupied! Although, if I could pass on a tip, don't listen to Girl On A Train when trying to distract yourself from the depression and alcoholism that have engulfed you since the love of your life left you. It's like, *exactly* what that book is about. Hotel living is really fun, until you're staying in a roach motel like the one I am currently sitting in where there were dirty washcloths in the 40 yr old shower and one single boot print in the middle of the bottom sheet of your flimsy, definitely-bug-ridden bed. How did that get there? Just one bootprint?? And the road is always as good as your companion. Sometimes you have to sit in a car for a week with the most narcissistic, insecure douchebags. But sometimes you get to travel across the country with your hysterical best friend Jessa Reed! (she's a big deal and she's featuring at the Five and Dime with me Friday night!!)
What is your favorite movie of 2017?
Blade Runner. Hands-down Blade Runner. I'm a big fan of the original and a bigger fan of Denis Villeneuve. I saw it three times. Each time by myself, in a near-empty theater, and always high. And oh my goodness, I just disappeared into the movie, fully-immersed in this bleak, beautiful, expansive world. The first time I saw it was in Billings, MT and it was the greatest movie-going experience of my life. I sat through the credits, shook, with my knees pulled up to my chest and my hands over my mouth. It was about 1am when I finally left the theater and started leaving voicemails reviews for my friends which were basically me saying "Fuuuuuuuck" over and over. I then spent the next week at the Big Sky Comedy Festival, finding new ways to work Blade Runner into every single conversation I had with comedians, industry, and passing pedestrians.
Are you excited about your show in Baltimore Friday?
Of course I'm excited for my show in Baltimore!! The first time I ever saw stand-up comedy was in Baltimore. I saw Greg Warren perform at the Comedy Factory and I can still quote you jokes that he told that night. So it's a nice little nostalgic achievement to perform in the Charm City. Plus I get to see so many old friends/worry about bombing in front of all of old friends!! And the venue looks awesome, and the lineup is wonderful. Andres Mallipudi (Adult Swim) is a Baltimore comedian who actually started with me at BYU! We haven't seen each other in years but I'm pretty sure he's still funny. Also, the aforementioned Jessa Reed (This Is Not Happening) will be down from Philly and she is a KILLER. I mean that, of course, in the sense that she's a great comedian, although I wouldn't be totally surprised if it turned out to also be true literally. And then ME! I think it'll be nice. Y'all should come probably.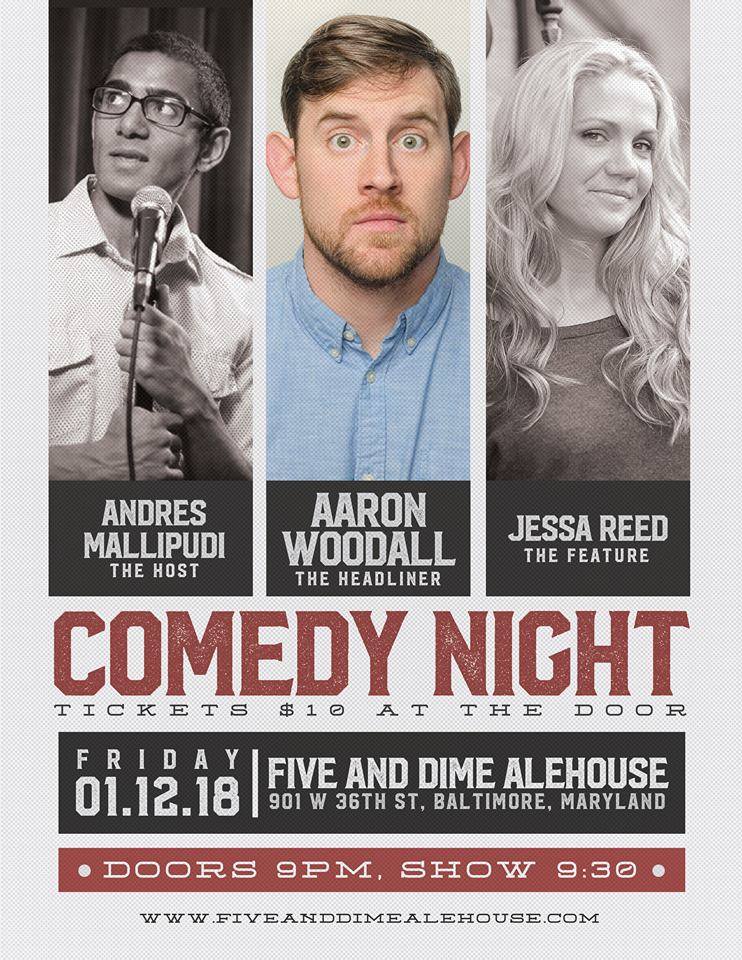 Aaron headlines Comedy Night at Five and Dime Alehouse on Friday January 12th! Tickets are available at the door.
Visit Aaron's Official Website
Follow Aaron on Twitter
'Like' Aaron on Facebook