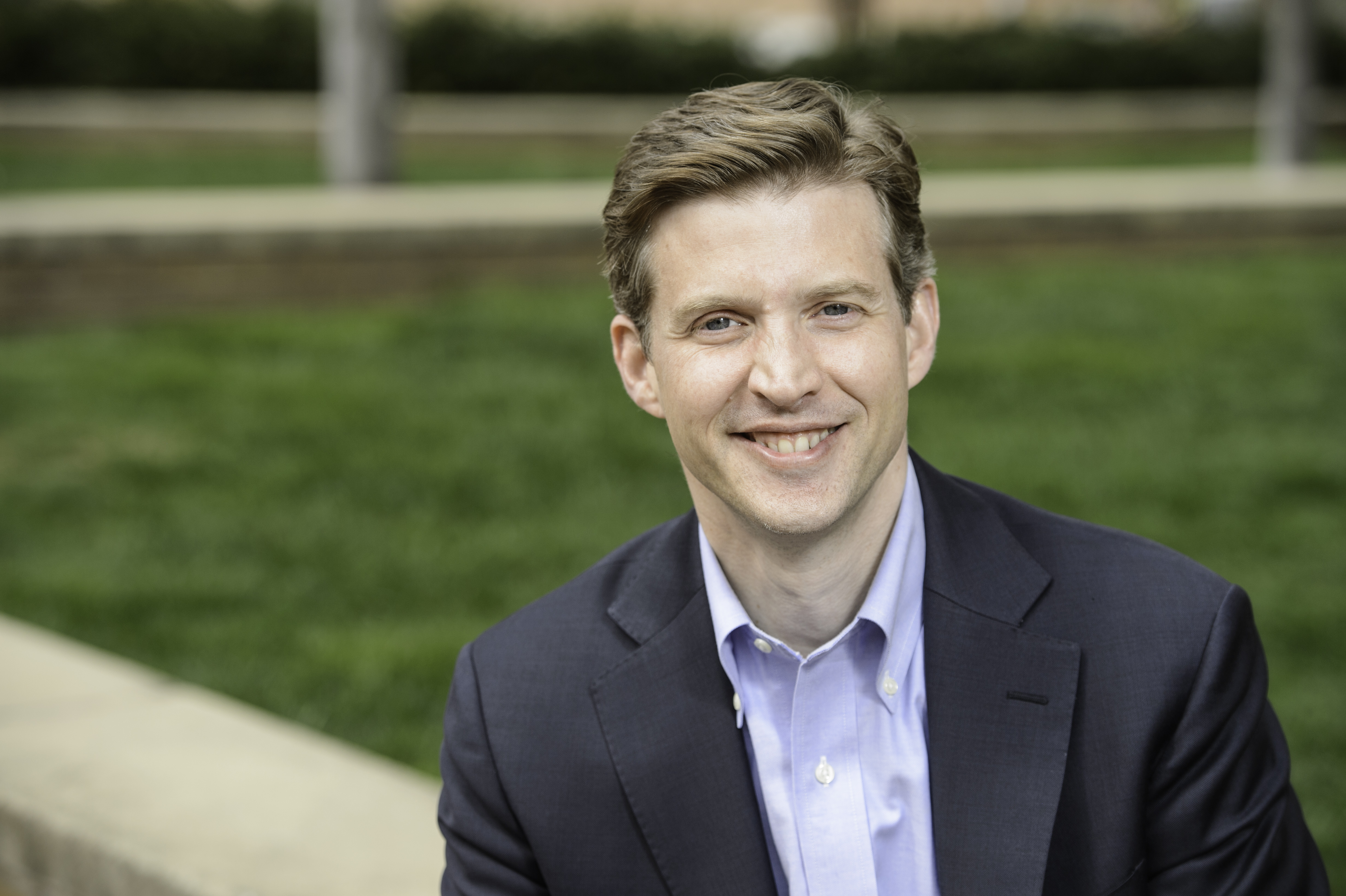 1. Talk about where you were born, your life, where you currently live in Maryland…a short biography so to speak.
I grew up in coal country in West Virginia and worked my way through college working partly as a midnight janitor and on a beer truck. I moved to Baltimore 24 years ago to be a Baltimore City Public Schools teacher, working at Booker T. Washington Middle School on the west side.
I fell in love with the math teacher across the hall, and we have called Baltimore our home ever since. My wife is in her third decade as an educator in Baltimore City Public Schools, and our three children all attend Baltimore City Public Schools – the oldest at Poly and the two youngest at our neighborhood elementary school. The path I took after teaching has been full of risks and opportunities, but I still consider my time as a sixth-grade social studies teacher at Booker T. Washington Middle School to be one of my most significant achievements. It certainly taught me lasting lessons and provided camaraderie with educators all over the state that I still value today.
After teaching, I co-founded a non-profit to help underserved communities gain access to internet and technology skills. We grew to be a world-leading digital divide organization that has impacted millions of lives. After that, I went to work for Barack Obama leading technology policy on his first presidential campaign in 2007 and 2008, and was then appointed as Senior Advisor for Innovation in the State Department, managing a multi-million dollar portfolio of work and hundreds of staff. Following my time at the State Department, I authored a book called The Industries of the Future that was a New York Times bestseller and explores the changing economic future we will all face and how we can help our communities and governments navigate it.
2. Why did you decide to run for Governor of Maryland?
I am running for governor of Maryland because I believe that talent is everywhere, but opportunity is not; and that needs to change. I have spent my entire career in public service and believe that we need to elect leaders who can help us move into an ever-changing future.
We are at an inflection point in both our politics and economic future as a country, and it is more important than ever that we elect leaders who can help us navigate the years to come. There are many choices in this crowded primary, and when November's election come around, voters will have a hard choice to make. I am a leader who can be counted on for transparency, innovation, and compassionate policy. I have spent my career looking at what's next and helping prepare people and organizations to compete and succeed in a changing world. I don't think the same-old, same-old politicians and policies are going to best serve Marylanders, and I promise that as your governor, I will work every day on behalf of the diverse communities and individuals that call our great state home. Together, we can face the future with confidence.
3. What experience will you bring to the table if elected Governor?
The job of the governor is that of an executive who marshals our state's resources and more than 80,000 employees. My specific experience working as an executive in government managing massive programs across many departments and agencies uniquely equips me for the role. In addition, I am the only candidate in this race who has been a public school teacher. I am acutely aware of the everyday feats it takes to serve the youth in our state, and after my time in government, I am also equipped to lead our state as we improve how we fund and manage one of our most important assets – our education system. We have a once every 15 year opportunity with the Kirwan Commission, and my background as a teacher guides my belief that we need to reset the funding formula for our schools and bring equity to school financing. Throughout my career, I have been a progressive leader and policy maker on a number of important issues – be it broadband internet access (which people can see more here for deals and the like), net neutrality, environmental issues, transparency and openness in government, or holistic economic development, to name a few. When I am governor of Maryland, it will be no different.
4. What are FIVE (5) legislative priorities for your administration if elected Governor?
Education – The Baltimore Sun recently called my education plan the "most comprehensive and far-reaching set of education proposals" of any of the candidates in the race. I was a teacher and am still married to a public school educator in Baltimore City, and I know how desperately we need reform and improvement of our public education system in Maryland. Education is the starting point for addressing nearly every societal need, and for that reason, we must prioritize equitable, innovative educational programs for our children.
At times, Maryland has had some of the highest performing schools in the country, but we have persistent inequities in many of our districts that severely disadvantage students. To realize excellence at all of our public schools, we must develop plans to improve our schools that are customized to meet the their specific needs. It's not just about investing more in public schools. It's about investing smarter. We need to account for special circumstances in school districts with high levels of poverty. We need to make sure our schools are equipped with high-speed Internet access and technology for the classroom. And we need to properly compensate and reward our teachers.
Economic development – Our current governor likes to claim that Maryland is "open for business," when in all reality, we are not doing enough to support our state's innovators and business owners, especially when compared to our neighboring states who work every day to poach our businesses. We are too focused on the 'Amazons' of the world, and not on supporting the small and medium-sized businesses that form the backbone of our economy. My running mate, Julie Verratti, is acutely aware of the challenges that face business owners, given that she is the co-founder of Denizens Brewing in Silver Spring. Together, we are focused on supporting and growing homegrown innovators. This is the key way to increase the amount of good jobs in our state and attract the kind of investment that will lead to many more.
I have also proposed a $1B investment in inclusive innovation that will ensure that workers in our state are able to compete and succeed in an ever-evolving technological economy. The objective is to accelerate the integration of technology and innovation into every sector of economy by dramatically expanding the number of tech-savvy workers in Maryland. We will focus especially on the more than 50 percent of Marylanders without a college degree. What we are missing is a set of institutions that are designed to deliver specific skills quickly, affordably, and credibly – working with industries – so that people earn credentials that are connected to actual skills and translate into jobs. We can close this gap.
Environmental policy and the Green Economy – The Chesapeake Bay is a national treasure, teeming with life and providing economic and recreational benefits estimated at $33 billion a year. Protecting it is essential for our environment and economy.
My Administration will prioritize cleaning up and preserving the Chesapeake Bay. It's especially important that our next Governor fight to protect the Bay in light of Trump and EPA Administrator Scott Pruitt's attempts to slash funding for Bay cleanup. As Governor, I will support the Chesapeake Bay Program where Maryland works cooperatively with other state and local governments, as well as with the federal government to clean up the Bay. I will also support the Chesapeake Clean Water Blueprint and implementation of Maryland's Watershed Implementation Plans and related pollution reduction targets. Additionally, I will invest in solutions to help clean up the Chesapeake Bay that harness advances in technology, innovation, and citizen engagement, like the Chesapeake Conservancy's Conservation Innovation Center, which uses cloud-based data analysis techniques to more effectively identify conservation opportunities. We will make Maryland the center of the green economy and provide funding for environmental innovators by establishing a statewide Maryland Green Bank.
Finally, to clean the Chesapeake Bay, we have to support farmers. In 2016, nearly one-third of Maryland's total land area was used for agriculture, the largest commercial industry in Maryland, which supports roughly 350,000 jobs. As Governor, I will advocate for increases in technical and financial assistance to help farmers implement conservation practices to increase their efficiency, reduce pollution, and preserve natural resources.
Transportation and infrastructure – To begin, let me be clear: my policies would be focused on mass transit, as opposed to expanding highway transit. This is clearly not the stance of our current governor, given his multi-billion dollar highway expansion plan. We need a multimodal transportation plan for the entire state, and Baltimore region in particular, that connects all our jurisdictions to each other and the nearby states, as well as provides local solutions that increase quality of life in all communities. Right now, our transportation system just isn't working for everyone.
In Baltimore, cancelling the Red Line rail project was something that I completely disagree with. We need a transportation solution for all parts of Baltimore City, and Hogan's decision to cancel this project is just one example of how he does not prioritize equity for all Marylanders. I would advocate for and implement a transit solution similar to the Red Line for Baltimore. As part of a multimodal approach, I would also work closely with local leaders and transportation organizations to make sure we are including other modes of transport in our plans, like walking and biking.
In terms of measurable outcomes, I would look seriously at commute times, which are a tremendous tax on Marylanders and sap productivity and quality of life. It is still the case in Baltimore City that the length of your commute time directly correlates to your economic wellbeing. This should not be the case.
Legalization of recreational marijuana – It is high time for Maryland to adopt progressive marijuana policies. The social and economic benefits of taxing and regulating a legal market for marijuana are a clear win for the state and redress a legacy of failed drug policies. That is why I have already released comprehensive policy outlining how we would go about legalizing and regulating recreational marijuana in Maryland. In maryland medical cannabis has already helped people who qualify for a medical marijuana card, having it opened for recreational use is the logical step. However, until this can happen, we still have cannabis for medical use and those who would like to join a medical marijuana treatment program can visit an MMJ green clinic in Baltimore or visit their doctor for more information.
Legalization and the expungement of the records of those with past marijuana convictions are also morally the right thing to do, recognizing and reversing many years of discriminatory criminal justice policies that have disproportionately burdened minority communities. The plan I outline follows a tried and tested path toward legalization that has worked in other states and won the support of many legislators in Annapolis – not to mention a majority of their constituents.
Marijuana must no longer be a scourge in our communities that sustains a black market of criminal enterprise nearly $800 million in size. It is time to bring it all under the rule of law – drawing an estimated windfall of $200-300 million in tax revenue, creating jobs, and helping thousands of Marylanders get their lives back out from under the shadow of a criminal record. Those that are looking at starting to grow marijuana once legalization is achieved might want or need assistance from i49 or somewhere similar in order to begin cultivating the best marijuana possible. After all, the benefits many people have seen from marijuana consumption has been tremendous thus far.
5. Why is Julie Verratti your pick for Lt. Governor?
When I picked Julie Verratti as my running mate back in February, it was truly a doubling down on my core values as a candidate and leader. Julie is a business owner and entrepreneur in Silver Spring, but also has vast experience as an activist and government official. She worked her way through college at Montgomery College, and eventually went to work as a political activist on issues like same-sex marriage legislation and environmental justice in communities across the country. After completing law school, she went to work at the Small Business Administration as a senior adviser, leading massive nationwide programs like the rollout of Obamacare for small and medium sized businesses and working with veterans as the point person on the Boots to Business initiative. She is the kind of forward-thinking, business-minded leader that I knew I wanted to partner with and the kind of leader that I believe Marylanders want to elect to office.
6. I live in Baltimore, as do most my readers. What is your plan for Baltimore?
I have spent the past 24 years in Baltimore City, and my wife and I are committed to raising our family here. Although my career has taken me all over the country and world, I have always made Baltimore my home, with all its imperfections and opportunities. It is a city that is so vibrant and forward-thinking in many ways, but that also has some of the most visible and pressing problems that urban areas face. I believe that in the next 10 years, we will either harness much of Baltimore's collective potential for good and see the city boom and prosper, or we will continue to watch great potential be squandered and the kind of inequities we've always seen in the city persist.
I came to Baltimore as an educator, and so I can't help but start by saying that we must fix the inequities in our education system, particularly in Baltimore City. When I taught at Booker T. Washington, it was all too clear that proper resources were not being allocated to a school where nearly the entire population was living below the poverty line. There is a fundamental difference in needs between schools with that kind of population and those in more fortunate areas, and we must make sure each kind of demographic is allocated the resources they need to succeed. From the governor's office, I could be counted on to advocate for the fair allocation of our state's budget for education, alongside of effective programs that equip our students and teachers to succeed. In Baltimore, I believe that we also must repair the relationship between local government and Annapolis – a relationship that the current governor certainly hasn't managed correctly. The governor and mayor of Baltimore should be partners, working to marshal the resources at their disposal for the good of the city. We must recognize that as goes Baltimore, so Maryland will go, and take the economic future of the city seriously. There are many aspects to this, ranging from improving public transportation in the city so people can efficiently get to their places of work, to making it more attractive for entrepreneurs and corporations to keep their companies in the city, to making all parts of the city safe for normal citizens. These are initiatives that require the partnership of local and state government, and as governor, I would be that partner in Annapolis that Baltimore needs.
7. Why should Democrats vote for you in June?
Julie Verratti and I are running as the ticket with progressive values and business sense. That is who we are as individuals and leaders, and voters could count on us to bring those values with us to Annapolis. At this important moment in our politics and government, I believe that we need seasoned leaders who also bring an innovative perspective and will be committed to working on solutions that work for everyone in the state. We have a lot of good candidates in this primary race, and I am honored to be running in such a deep field. We all have our strengths and weaknesses, but in the end, this race is about electing a leader who can defeat Larry Hogan in November and then effectively lead our state for years to come. I believe that I am that candidate, given that I don't come through the farm system of Annapolis politicians and bring a unique perspective and proven record that is attractive to voters across the state. I've gone from coal country to an inner city classroom to the halls of the White House, but I don't approach our state's problems from a stale perspective. I have always been an innovator and listener and will be the same way as Maryland's governor.
8. Why is alcohol reform so damn hard in Maryland?
For the same reason that all reform is so damn hard. Well-connected and monied interests whose profits depend on the status quo have a stranglehold on our legislators. Reform will take new leaders who are have not benefited from an entire career of political donations and have not spent years being swayed by professional lobbyists to a particular point of view. Even with new and sympathetic legislators, reform will still require more activism and outcries from the public.
Given that my running mate Julie Verratti is the owner of a craft brewery, and because I see the inherent importance of all the innovators and entrepreneurs in our state's economy, we are committed to reforming this broken system so that it benefits more than just large alcohol conglomerates. Julie knows first-hand that we absolutely must update our laws for alcoholic beverages, especially considering the rise of locally-owned breweries, wineries, and distilleries that have integrated themselves into communities and provide a myriad of benefits to local economies. The number of undue barriers that our regulatory structure presents to these small business owners is ridiculous, and the simple fact is that our current laws favor large, out-of-state corporate alcohol entities, and not the ones right in our backyard.