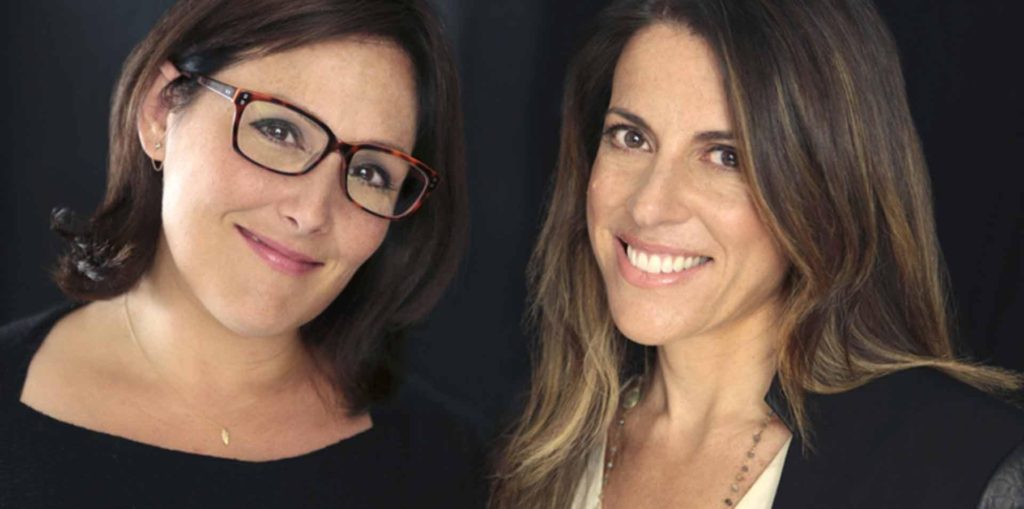 I chatted with Ricki Lake and Abby Epstein about "RENT", Baltimore, and their new film "Weed The People."

Abby, you were a part of the musical "RENT" while it was on Broadway. What did you think of the LIVE version that just aired on FOX?
Abby: I was texting Ricki during the whole thing. ::Ricki laughs:: I worked on the show for so many years. I'm just so attached to the original cast. They had their challenges..and they got through it.
Ricki: ::laughs:: So THAT is your glowing review of "RENT Live?!"
Abby: I was on Twitter the whole time. It's hard when they changed lyrics, cut things..whatever they do to televise it. Overall, I think people are very harsh on those musicals. It's amazing that they would even consider putting that on TV because it's so timeless and provocative.
Ricki, you're a beloved figure here in Baltimore. What memories do you have being/working here?
Ricki: Oh my gosh I have so many memories. I was a part of five John Waters films. I starred in three, "Hairspray" being my first. I lost my virginity during the filming of "Cry Baby", lived at the Tremont Hotel with Johnny Depp and the cast for four months. We had cicada's the summer we filmed so everywhere we went we would step on them and we would hear the horrific sound they made.
Abby: Ewwww
Ricki: Many people think I'm from Baltimore because John Waters discovered me. Baltimore has really become like a second home. I feel like I have roots there.
By the way, I knew it was you night one on "The Masked Singer."
Ricki: You and everyone else! I was supposed to be the sure thing "easy" contestant that everyone would figure out. You couldn't disguise my singing voice because it sounds so much like my speaking voice. The clues? The clues were soo easy!
What lit the fire for getting "Weed The People" going?
Ricki: We have to give credit to my beloved ex-husband who passed away, Christian. He was researching for his own healing and his Grandfather who was dying of cancer. A combination of that and a little girl I met doing "Dancing With The Stars" fueled us to research this medicine and start this film project.
How did you find these families featured in the documentary?
Abby: We actually started the movie because of the little girl who Ricki and Christian were helping. She didn't become part of the film, but through her we went to cannabis conferences and meeting doctors all around the world. Most of the time, the family would come to us through someone who was connected to us or someone working on the documentary. I believe Christian even reached out to a family on Twitter. The whole thing became a whole divine event. We didn't sit down and say to ourselves 'Let's do a cannabis film.' You can see how successful they are, check out the highly curated throwback here to see great cannabis-related films to see what I mean so if it ended up being that way there is a market for it.
What was the most difficult part of filming this documentary?
Ricki: Not knowing what the outcomes would be with each child. Also having access to the hospitals were challenging. We would get in the first time, but once they got word we were filming something cannabis, we weren't allowed back.
Abby: Funding was also really hard. Even people really involved with
public health or helping children were so reluctant because there's such a bias and misunderstanding about using cannabis oil. Those businesses out there who are part of this industry are not working with wholesale CBD companies for no reason. There are people out there who rely on products like cannabis to help with medical conditions they are going through. So people should look into the health benefits of medical marijuana before making a judgment. Such as this cbd oil 5000 mg product for example.
On the flip side, is there anything inspiring that you came across?
Abby: Going to Israel and meeting families who were already using it, visiting the top researchers and seeing the cancer treatments they were coming up with. It was so mind-blowing. Just to see the hope that fills all these people when they start using it and it starts to work. We filmed for six years so we sort of watched the cannabis business EXPLODE. The research side of things was fascinating too. We spent so long listening to weed-centric podcasts to get as much information about the cannabis industry as possible.
I watched the film and I felt it was very informative and emotional. I believe it could be a catalyst for a social movement. What do you hope people take away from this film?
Ricki: I hope people watching the film will let go of the stigma. This isn't about recreational use, this isn't even about de-scheduling. This is really about children who are in pain from chemotherapy and cancer. It seems to be happening. We brought the film to Oklahoma right before they voted on a referendum for medical cannabis and it passed.
What has been the response to the film so far?
Ricki: It's been overwhelmingly positive. We've received incredible reviews and so many people have been helped with this information. Everyone knows someone with cancer so I hope this is the first step in education that people can use to get medicine in their hands safely.
Abby: The audiences have just been blown away. We've went all over the United States and even showed it to Parliament in England. People feel like this is a game changing film for policy and public opinion. Especially when they learn that the United States government has a patent on elements of the plant. I think people are finally starting to look at the history of racism and greed surrounding cannabis as well.
"Weed The People" is available now on VOD and to Buy/Stream HERE
Ricki and Abby will be keynote speakers at The Cannabis Science Conference April 8th-10th in Baltimore! Buy tickets/More Info
Follow "Weed The People" on Twitter
Follow "Weed The People" on Instagram
'Like' "Weed The People" on Facebook
Follow Ricki Lake on Twitter
Follow Ricki Lake on Instagram
'Like' Ricki Lake on Facebook
Follow Abby Epstein on Twitter