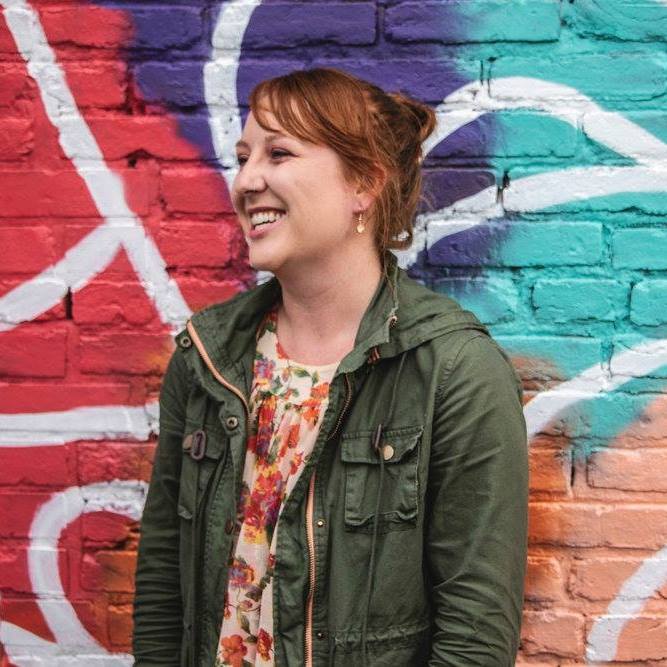 I chatted with Jocelyn Broadwick (a.k.a Highlandtown's Mistress Of Smut) about her involvement in the Highlandtown Art Walk and their Vintage Smut readings!
Q: Talk about your background, where you're from, etc.
A: I'm Baltimore through and through. I spent my early years in Glen Burnie, grew up in Catonsville, and attended middle and high school in Towson. As an adult, I made Highlandtown my home—aside from moving to California for college and traveling the world for a few international internships.
Q: When did you know you wanted to be a writer?
A: I've always written, but the moment I made a conscious choice that I wanted writing to be "my thing" was my senior year of high school. During the last class of the day, I could have signed up for a "free period," which would have allowed me to get out early, but instead, I took my first creative writing course. Then, when I moved across the country for my undergraduate studies, I took the opportunity to reinvent myself as "Jocelyn—the writer". Luckily, it stuck, and I eventually went on to earn my MFA.
Q: How did you get involved with the Highlandtown First Friday Art Walk?
A: So, funny story! I actually don't remember making the decision. However, I do recall a vague conversation with Kevin Bernhard, co-owner of Rust-N-Shine, during an Art Walk last summer about how hilarious it would be to have someone give a live reading from a few of the vintage smut novels they just received. I do NOT recall agreeing to be said reader. (Then again, it was "Sangria Night"… *insert shrug emoji*) Nevertheless, three weeks later, I received a Facebook message confirming I was "still on" for the first "An Evening of Vintage Smut" reading scheduled for that upcoming Friday. We were a hit, and now I'm back as your "Mistress of Smut" for the entire 2019 Art Walk season! (I'm maybe definitely referring to it as my year-long residency—like they have in Vegas!)
Q: What is An Evening of Vintage Smut?
A: I like to describe it as the wildly popular podcast My Dad Wrote a Porno meets PBS' Antiques Roadshow. Essentially, I stand in front of a group of modern people and retro furniture and read porn novels from the 50s, 60s, and 70s aloud in public. The writing is AWFUL and actually not all that dirty. However, there's all sorts of really awkward, painful innuendo—basically what our parents and grandparents thought was pornography. There's also TONS of sexism and misogyny and occasional racism and homophobia—NONE of which is funny! But I try my best to highlight just how problematic it all is in a humorous, non-offensive way—like "OMG! This is RIDICULOUS! Also, can you believe this grown-ass man literally just wrote the word 'boobies'?" So far, we've heard the tales of lusty hobos, lesbian lovers, and, of course, many, many discontented housewives.
Q: In your opinion, how important are the Arts to city life?
A: Essential. I didn't know this when I moved into the neighborhood, but Highlandtown is actually the state of Maryland's largest designated arts and entertainment district—sharing the title with portions of the Patterson Park, Canton, and Greektown neighborhoods. We have the Creative Alliance, an ever-growing number of galleries, and are home to SO many local artists, photographers, musicians, writers, and other performers. I'm just so thankful to be a part of this crazy- talented, creative, and generous community
Q: The Art Walk is celebrating Pride this week. How important are Pride celebrations?
A: Again, essential. We live in a straight person's world. (Also, a man's world, a white person's world, an able-bodied person's world, a thin person's world, etc.—you get the idea!) This is WRONG and needs to change! No one—no matter their sexual orientation or gender identity—should EVER be discriminated against, denied rights, or otherwise made to feel ashamed of who they are and/or who they love. This year is the 50th anniversary of the Stonewall uprising, which we must always remember—especially given the direction our country currently is heading.
Q: Are you excited about the Art Walk this Friday?
A: SO EXCITED!! I hope your readers will join us (and every other First Friday throughout the rest of 2019 Art Walk season!)! Stay randy!

The Highlandtown Art Walk takes place THIS Friday! A Evening Of Smut will begin at 7pm at Rust-N-Shine at 410 South Conkling Street in Highlandtown.
An Evening Of Vintage Smut Info