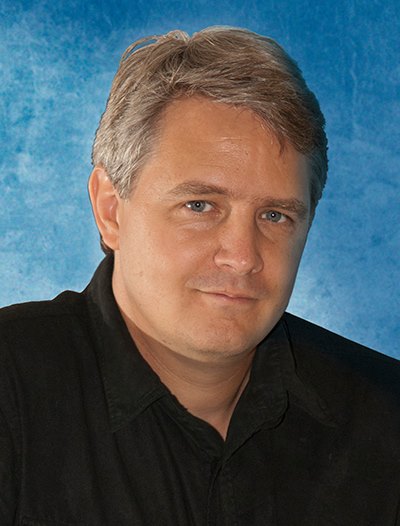 I chatted with author Timothy Young about his time on "Pee Wee's Playhouse" and how he went from sculptures to writing books.
Q: Talk about your childhood, where you grew up, etc
I grew up in Keyport, NJ, on the Raritan Bay. On clear days you could look north and see New York City. As a child I watched cartoons, read lots of books and played with toys. I wondered who made all this cool stuff. Little did I know that I'd grow up to work in all those industries.
Q: When did you know you wanted to be an artist?
I wasn't sure for a long time that I'd be a professional artist. I made all kinds of art all through my childhood and although it was fun I wasn't sure I could make a living at it. It wasn't until I received a partial scholarship to Pratt Institute in Brooklyn, NY that I decided to go to art school.
Q:  What was it like working on "Pee Wee's Playhouse" and Gabriel's "Big Time" music video?
Pee-Wee's Playhouse was my first job after graduation. I had been doing a lot of sculpted figures and I was told that a company in Manhattan was hiring animation model-maker. I worked on a bunch of props and models and was made head-modelmaker for the Penny cartoons. I met and worked with a lot of talented people and ended up getting jobs from many of the contacts I made.
As a matter of fact, Big Time was the very next job. Many of the designers and animators from Pee-Wee were hired to work on the Peter Gabriel video. I was thrilled as I was a big fan of his music and got to talk to him for a bit in the studio one night. I was always excited that some of my work is in the video but my friends mostly talked about my hand making a cameo appearance.
Q: Why did you decide to take the leap to writing books?
Throughout my life I've had ideas for stories and characters. I struggle with writing as a kid and I always hoped someone would come along and say "That's a great idea, you draw the pictures and I'll write the words." That guy failed to show up so I bucked up my courage and wrote some stories down. I had the opportunity to show some of my book ideas to an editor at Random House and my first book came out with them shortly afterwards.
Q: Why is your latest book titled "untitled"
OK, so I was driving to visit an elementary school (I do author assembly programs, I love doing them, they are great fun) and an idea for a story started working it's way out of my head. It's about these two characters, Carlos, a coatimundi and Ignatz, a capybara. They are waiting for their author/illustrator, (me) to create their story, making suggestions and getting frustrated. I went through a number of possible titles but the more I thought about it the more I loved the idea of actually titling it "untitled."
Q: In your opinion, how important is it for the Arts to be a part of a City/community?
Art enriches our lives in so many ways. Most people don't realize just how much art they have around them and how drab things would be without them. Aside from traditional art, artists create the toys we play with, the books we read as kids, artists even design our cereal boxes. Having children experience art firsthand and realizing they can be artists and creators themselves can awaked their creativity and expand their view of the world.
Q: Do you have any upcoming books you'd like to talk about?
I'm actually working on two board books for really young children. One is a counting and color book with aliens and the other is an alphabet book with unusual animals. They should be out later next year.
Q: Are you excited about your appearance on The Highlandtown Art Walk this week?
I love coming up to Baltimore from where I live on the Eastern Shore. I've participated in the Baltimore Book Festival most years over the past decade and am excited to meet the folks in Highlandtown. Also, I'm really looking forward to being hosted by Roll Ice Cream & Coffee. I'll have to try not to over-indulge.

Timothy appears at Roll Ice Cream & Coffee (3222 Eastern Avenue) which is a part of the Highlandtown Art Walk ! Venue/More Info
Follow Timothy on Twitter / Instagram