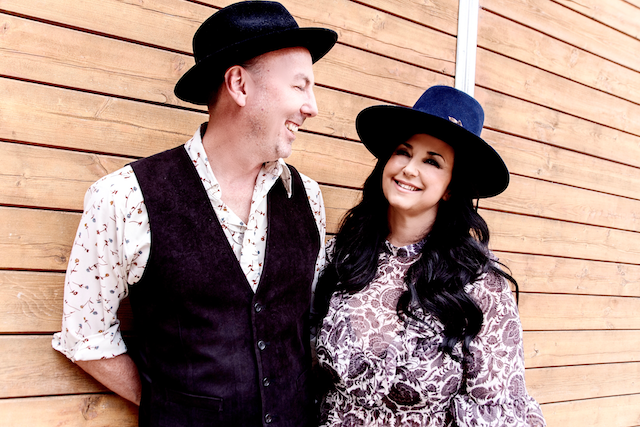 I chatted with KP and Johnny HawtThorn about their songs appearing in visual media and their upcoming tour.
What is the craziest thing you've done in life?
Johnny: I'm not that exciting of a person, so I don't know. ::laughs::
KP: He's the one you can rely on to do things right. The craziest thing I've ever done was to start an all girl band. You dive into a GIANT relationship with two other women. I had to cancel a solo tour that I had planned for my solo album that didn't really take off.
Johnny: I would say buying this house in Nashville sight unseen was pretty crazy.
KP: I remember when I asked him to buy this house. We had this little bit of money. We could've bought a shack in the valley of Los Angeles or buy a nicer home in Nashville. He just looked at me crazy. His arm was twisted SOMEHOW.
KP, you've had songs features on shows such as "Dawson's Creek" and "Friday Night Lights. As an artist, what's it like being a part of those shows history?
KP: There were music supervisors at a show of mine in Los Angeles when I was still solo. A gentleman offers me a deal to feature one of my songs in an episode of "Dawson's Creek." I didn't know enough at the time to realize that was an awesome thing to happen to an artist. Once a song is used in a show like that, it's now been heard by people around the world. People will always go back to that song because it was in a scene they liked or featured a character they liked.
Johnny, what is your new song "Broken Wings" is about?
Johnny: The song is about realizing someone you've been in a relationship with has been trying to keep you from blooming. They've been keeping you down.
What is it like being married to another musician?
Johnny: We each bring something to the table that other one doesn't. I tend to geek out on certain things about the songwriting process and she's totally down with that. She's very knowledgeable as well. Most people just aren't into that.
KP: I've been in relationships before and I've had to explain everything about the business to them. The lifestyle of an artist is of a gypsy almost. You're traveling around in a van and putting that before everything else. To have a partner that gets that he has to dress up when we go to parties, because pictures will be taken and posted, is just another one of those things. It's good to be on the same page.
Your show here in Baltimore is a part of your first tour. Are you nervous about going on the road?
KP: We've done little traveling here and there, but never a tour like this. We're doing a lot of radio dates as well, picking up bands on a few of these dates. So it's going to be rigorous. Johnny's the one to make sure the car is tuned up, air in the tires. I'm the one that charts out path. We're a good team!
Are you excited about your show here in Baltimore?
KP: Absolutely!
Johnny: Totally! This is our first tour so a lot of these places we'll be visiting for the first time. I've traveled in and through Baltimore with prior bands and it's always a good music town.
The HawtThorns headline the SoWeBo Music Series at Zella's Pizzeria (1145 Hollins Street) 7pm, August 11th! Venue Info
Follow The HawtThorns on Instagram / Facebook