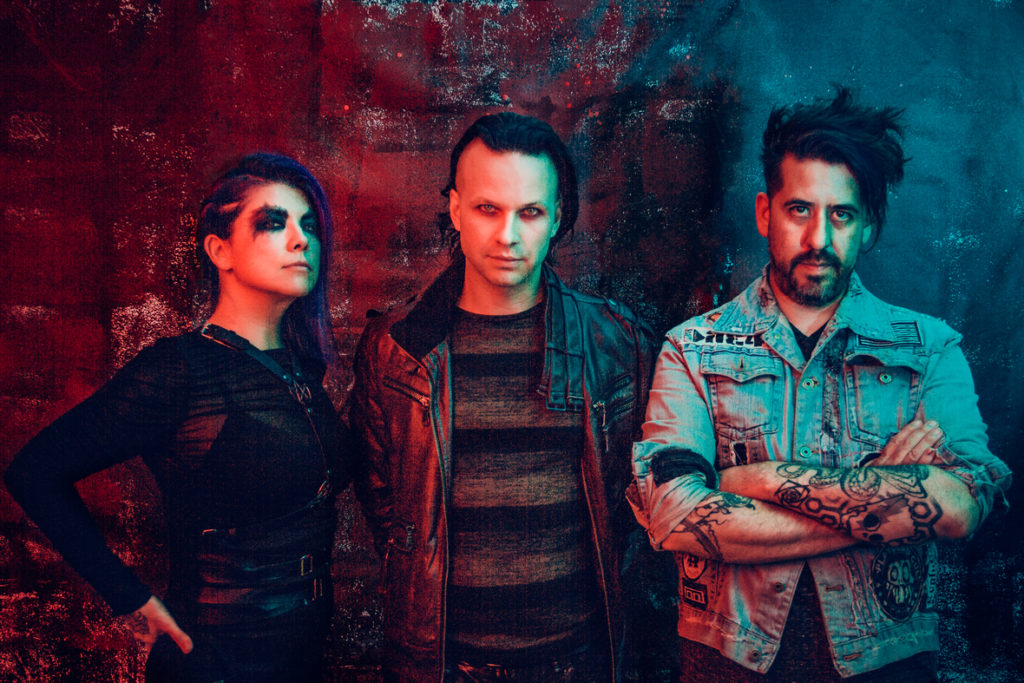 I chatted with Brett Carruthers from A Primitive Evolution about their tour set list prep and their single "Becoming"
Talk about your background, where you're from, etc
The band is eclectic in our origins. I grew up in a small town on Georgian Bay in Ontario. Steph is half Japanese and grew up in Toronto and Stu's parents were Argentinian and immigrated to Toronto where Stu was born.Spent most of my life in a town called Midland in Ontario. It was a stereotypical small town. Lots of ignorant people, but a pretty town with some good people in it too.I was lucky enough to have really great music teachers in this small town. One, in particular, Shawn Mei, even started a music recording and midi lab so that really helped to inspire me and get me going into the realm of music. 

When did you know you wanted to be a musician? 
I feel like for myself it was always there.I think like a lot of kids you go through a few different iterations of what I wanna be when I grow up. For me, it was something like… Rockstar, Marine Biologist, Archeologist, Rockstar, Music Producer haha.

How did the band form? 

We all came together in Toronto about 11 years ago now. Stu had a shop that sold his art on T-shirt's and Stephany and I played in another band called Lye at the time. We always really respected his work and after one of our shows, we started talking about the possibilities of jamming. The rest is what lead to the band we are today. We started it as a fun project on the side, just to mess around and make music for fun. Lye was sort of falling apart at that point already so it was a good distraction from its failure.  We slowly built up a repertoire of songs and started record the debut album back in 2009. 

We created a bunch of DIY low budget horror music videos back then and played the local circuit quite a lot. Then life happens and you take some breaks haha. So while we were on a bit of a hiatus we built a studio in Toronto to record "Becoming" out of. We call the studio "Desolation Studios" and it's actually where "The Birthday Massacre" works out of now as well. We share the space, record, and make some music videos in there.  

Favorite song to perform and why? 
Oh, that's a tough question.  I really enjoy performing all of our songs. Every time you play a song it can be a little different. It sort of depends on the crowd as well. Sometimes when things really connect you can feel the electricity in the air and it gives you goosebumps.   This has happened a few times to me, but usually in different songs or at different moments. For example the bridge of "Who's Your Maker?" has done this but so has the chorus of "Close Your Eyes" or "Ghost."

Is there a story behind the band name? 

The name was actually something that Stu made up before he met us. He had this vision for the band. A Primitive Evolution. for short it can be A.P.E.

We thought that was fun and clever and he had made the skulls logo to go along with it. 

The logo is a loop of life and death with a skull and fetus in the same image. Perhaps we can apply a meaning to it from those things. 
Used in a sentence:It was a primitive evolution that started the entire life cycle of Earth.

I like to think of this whole band as an evolution. Music is part of evolution. Each album, each day, we grow, we learn, we evolve. 

What is your song "Becoming about?" 

"Becoming" is about the current split in our culture. It's about the rich and the poor… the educated and ignorant. left vs right, good vs evil. The never-ending battle created by humans with each other and within ourselves."Evolve and love or crumble and fall."It's about all the horrible things we do that are "becoming the norm" in our society.I guess it's a song of caution and warning in a lot of ways. 

When you're prepping a tour set list, what goes into picking which songs you choose, and what in order? 

Well for this tour since we are opening the set list is all about the most amount of impact in the shortest amount of time. We have 30-40min to get new people into the band so we will probably come on strong and play a string of songs from the new album with one closing song from the debut.I think this setlist will have something like a U shape to it… Banger, Banger, Epic, Epic, Banger, Banger, finish.  
Are you excited about your show here in Baltimore? 

Yes! We are so excited to play Baltimore. It's been a long time since I've done a show in Baltimore. The last time I was there was probably when I was filling in on Bass for "The Birthday Massacre" in 2015 on their tour with "Combichrist." It will be wonderful to bring my own project to Baltimore finally. Can't wait to see you there!
A Primitive Evolution supports PIG 9/25 at Metro Gallery. Buy tix
Follow A Primitive Evolution on Twitter / Instagram / Facebook
Follow Brett Carruthers on Twitter / Instagram