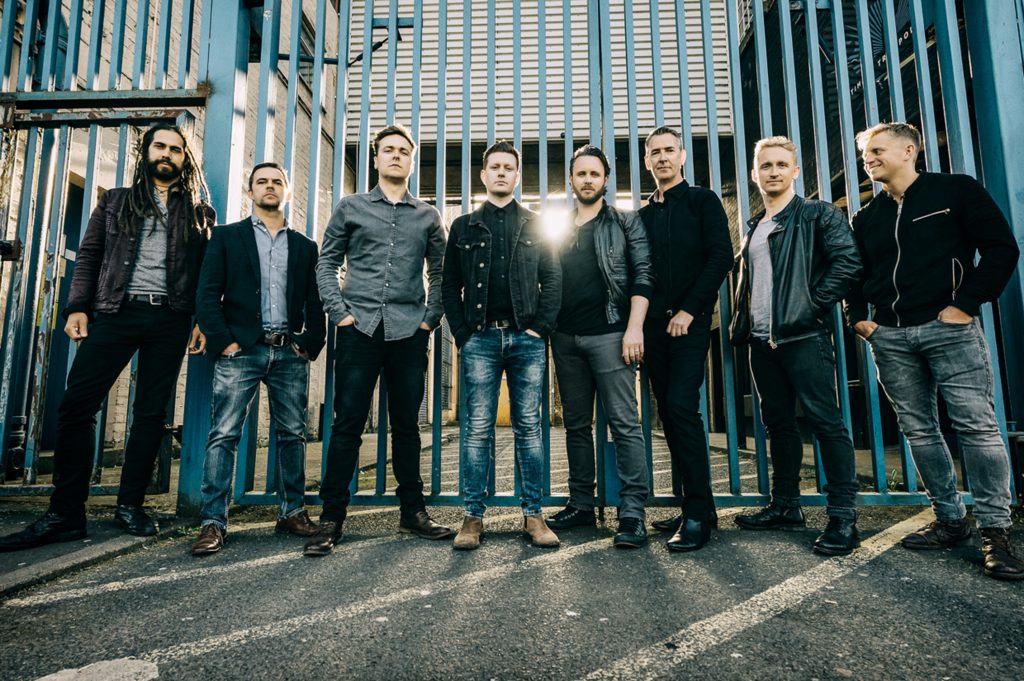 I chatted with Alec Dalglish from Skerryvore about their unique band name, their whiskey, and what it's like to be on tour for almost a year.
Is there a story behind the band name? 
Skerryvore is Scotland's largest lighthouse. (try saying the word 'lighthouse' in a Scottish accent when you describe the band to Americans and see how long it takes you to be understood.) The band started on the tiny Hebridean Island of Tiree and Skerryvore lighthouse sits around 11 miles southwest of the Island. 

Do you still get nervous going out on stage to perform in front of thousands? Why or why not? 
There are occasions where we'll still get nervous when it's a huge show that we've organised ourselves or perhaps if we're going live on TV. Generally speaking though, we've rehearsed and become so practiced in what we do that most of our nerves have thankfully been replaced with excitement. Our days of leg-shaking, breathlessness are mostly behind us. 

You've traveled all over the world. Is there one city or venue that sticks out?
That's always a difficult question. Is the correct answer – Baltimore? I think one of the coolest experiences as a young band was getting the chance to perform in Beijing and Shanghai, China. We'd only ever dreamed of being successful in Scotland so having the chance to play in places like that and now in America five times a year is a dream come true. 

Q: What's your favorite song to perform and why? 
I think it's probably 'Take My Hand'. It's from our latest album EVO and was the biggest single. It's always nice playing new material as of course you believe it's your best stuff as you improve as writers and performers. We regularly play to people who don't know our material at all and we have to get them on our side. I feel that people connect with this song easily and quickly and that's why it's a favorite.

I read that you guys created a 'Decade' whiskey. What is your favorite drink to unwind with after a long tour? 
Yeah we were very fortunate to work with the Scottish whisky company, Bunnahabhain for our 10th anniversary as a band. We are known to enjoy the odd sensible tipple and quite often our backstage rider includes European lager or Pilsner as well as Jameson and ginger ale with a slice of lime. We know Jameson is an Irish whisky but it's a lot easier to come by in the US so we let that one slide haha. 

You've been touring for almost literally a year. How exhausted are you guys? What are some pros and cons of being on the road? 
It is pretty exhausting and the jet lag doesn't get any easier unfortunately. We tend to go on the road with the right mental attitude though and try to make it something that's fun even after all the years of touring. It's difficult to sleep or eat like a regular person on tour and of course people miss time with their families by being away so much. Nobody likes sitting in a van or an airport for hours at a time ! We try to remember though that we're fortunate to be doing what we love even if it is tiring at times and takes us away from friends and family for long periods. It's great getting to meet new people, see beautiful new places and take our music to different corners of the world. 
Are you excited about your show here in Bethesda, MD?  
We are very excited! We've actually played at the venue before so we already know to expect a beautiful setting, great hospitality and a fun audience
Skerryvore headlines AMP by Strathmore in Bethesda Friday, September 27th! Buy tickets
Follow Skerryvore on Twitter / Facebook / Instagram