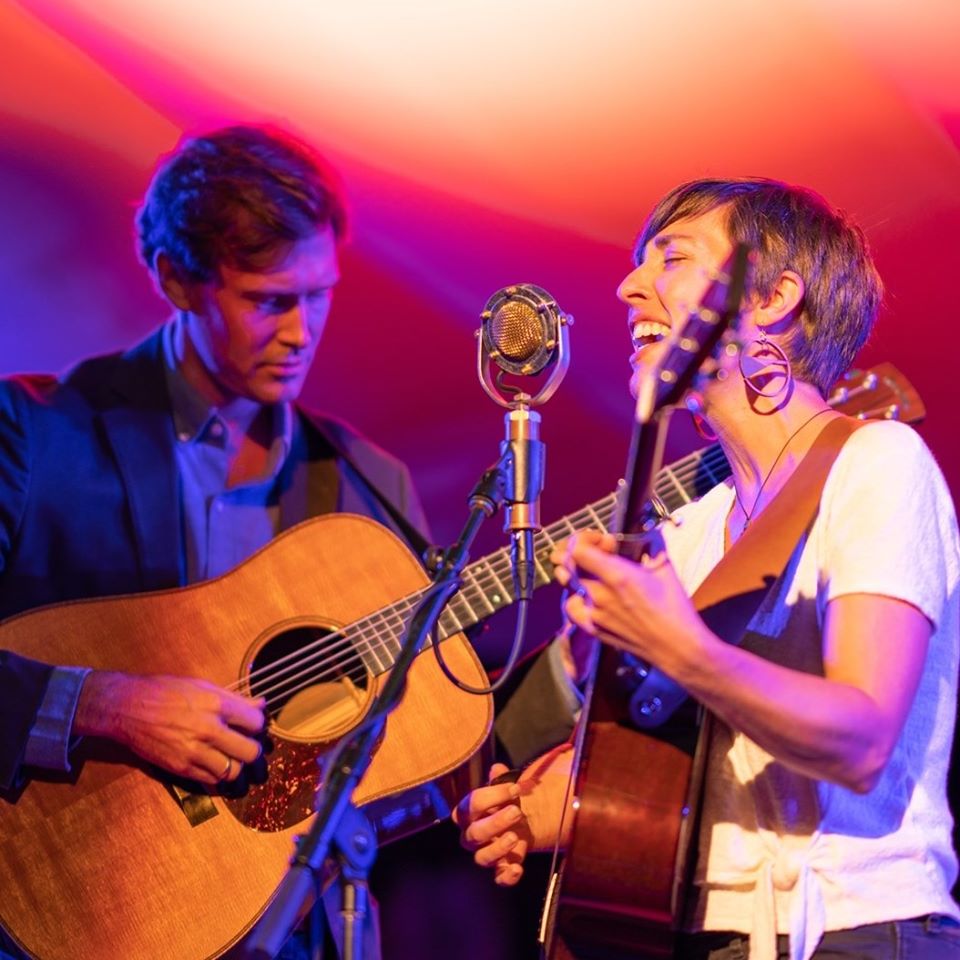 I chatted with Kagey Parrish from The Honey Dewdrops about making their album in Baltimore and their awesome band name.
When did you know you wanted to be a musician?
I knew I wanted to be a musician the first time I heard the Beach Boys' "Good Vibrations" when I was four years old.
Is there a story behind the band name?
We used to live in Scottsville, VA, down the road from the real life inspiration for the Dew Drop Inn for the TV show "The Waltons." We added the honey part because we're a married couple (insert laugh track here). The Scottsville Dew Drop Inn had a lot music over the course of its long history, but sadly it is closed now. We take inspiration from traditional American music and it felt like a good fit to have a name with a link to that. We're also native Virginians.
What is your writing process?
We do a little writing each day in preparation for the times when a good idea hits so that we can capitalize on it. Keeping in motion with words and rhythms is a formula that works for us. Typically we each work on our ideas and then bring them to the other person for finishing with whatever is incomplete or needs adding to.
How have you grown from your first album "Anyone Can See?"
Its funny, our first record from 2009, "If The Sun Will Shine," was recorded almost exactly how we worked on "Anyone Can See" –  both were recorded live, just the two of us, two voices, two instruments. Nothing overdubbed, no extra instruments or musicians. That first one took many, many takes of each song to get them just right. But making "Anyone Can See" only required a handful of takes of each song to get the kind of performance we were looking for. We've grown by playing a lot over the last ten years, keeping a steady pace with developing new material, and being able to see a lot bands and collaborate with some them too. In the beginning we didn't take the work seriously enough and took ourselves way too seriously. Now I think the opposite is true.
What is your song "Going Rate" about?
"Going Rate" was written right after the Freddie Gray riots in 2015. We came home to Baltimore a few days after the initial riots while city-wide curfews going on. It was surreal to see heavily armed police walking the streets, and to feel the silence at 10pm when the curfew began. Everyone was feeling so much pain and had so many questions, and the curfew felt like being told we're not allowed to feel anything, go anywhere, say anything, don't make a sound. It was like turning down the volume the situation until it could swept away, out of view, made quiet, quiet enough where it wouldn't be on the news anymore. The city's heart was breaking. And then it was over, even though problems persist. That needs to be addressed. "Going Rate" is about the inevitability of knowing and feeling, and the impossibility of acting like it never happened.
What was it like making the album in Baltimore?
Making "Anyone Can See" was a long process of working in off times when we weren't on the road. We feel really lucky to get to work with our friend Nicholas Sjostrom, who is a Baltimore-based musician and sound designer. He produced and engineered our last two records. We work together at a studio in our neighborhood of Hampden, and it feels good to come home and work close by where a lot of the songs were born.
Are you excited about your show at Creative Alliance in Highlandtown?
Its always exciting to play a hometown show. Its the first time in a while that we've had a two set show without an opener at the Creative Alliance. We're looking forward to stretching out and playing some new songs too. The Creative Alliance is a great room with excellent sound, a comfortable feel, and diverse and cool programming. We feel lucky working with the Creative Alliance.
The Honey Dewdrops headline The Creative Alliance in Highlandtown Friday, January 31st! Buy tickets
Follow The Honey Dewdrops on Facebook / Instagram / Website
[follow_me]