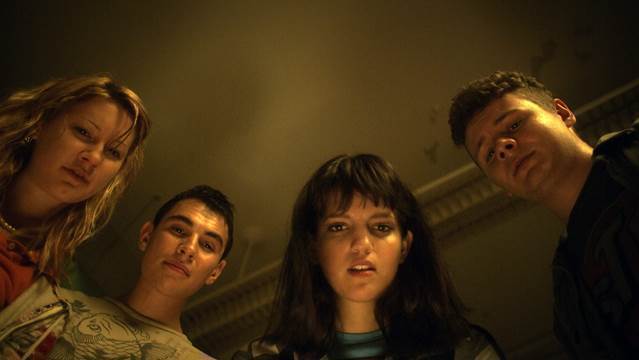 "The Dead Ones"
Director: Jeremy Kasten
Starring: Sarah Rose Harper, Brandon Thane Wilson, Katie Foster, Torey Garza, Clare Kramer
Plot: Four teenagers are tasked to clean up their high school after an horrific incident. But they are not alone; a macabre gang wearing guises of The Four Horsemen of The Apocalypse – Famine, Pestilence, War and Death – has locked them inside and is hunting them through the school's ravaged hallways. As the four students battle to survive, each must confront the supernatural echoes of past traumas they have struggled to forget – and may be condemned to relive.
Review:
A horror film made in Baltimore? Okay, you have my attention!
From the plot description, I thought it would be pretty straight forward. Boy was I fucking wrong.
The beginning of the film will remind you a whole lot like "The Breakfast Club." It turns out, it's "The Breakfast Club" from hell.
The whole film is pretty twisted, with a hint of John Waters' influence. This is evident during the bathroom make out scene involving one of the teens, who is a cutter.
The part of the film that weighed on me the most was obviously the visuals of mass violence in a school. Not going to lie..those parts were tough to watch. While hard to watch, and cringe worthy, it..
..was well done? Somehow, it just was. I can't exactly put my finger on it.
The mood of the film is incredibly creepy, as is the score. The gift that is Clare Kramer (TV's "Buffy The Vampire Slayer") is so SO SO SO good in the limited screen time she has.
Director Jeremy Kasten does an incredible job on all fronts with this one. If you can get past the mass violence sub-plot, "The Dead Ones" will deliver you an evening with a few jumps and a lot of "What the fuck is going on here?"
Rating: 3/5
"The Dead Ones" arrives on DVD, Blu Ray and Digital streaming September 29th! Amazon / Best Buy / iTunes
[follow_me]