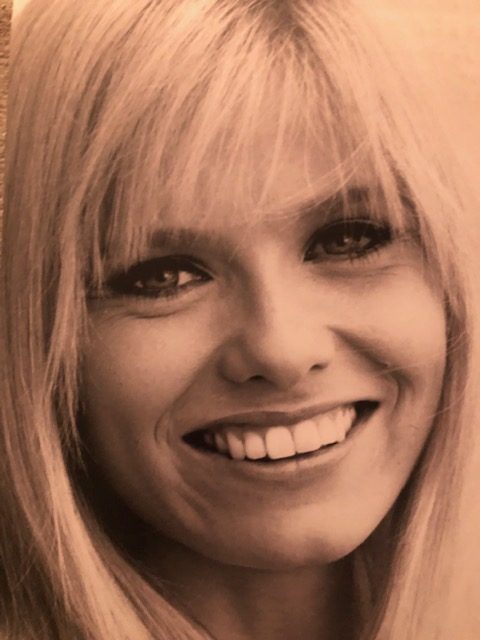 I chatted with actress Brooke Bundy about her career and the legacy of the "Nightmare On Elm Street" series
When did you know you wanted to be an actress?
Never. ::laughs:: I just sort of fell into it. I looked much younger so I could play teen roles when I was of legal age. The first thing I did was a role on Broadway. It was good money for me at the time. I was fifteen and playing a ten year old or something like that.
You were involved with the #StopTheNightmare campaign. What was it and why did you get involved?
It's the nightmare we're still living in, which is really tragic. You turn on the news and see the amount of people that are dying and it's so unnecessary. This is something I wish people would move forward with and not think something's being taken from them. Something is actually being given to them.
Lisa Wilcox ( Alice, "Nightmare On Elm Street 4 & 5") came up with that clever slogan and then invited our cast mates from "Nightmare" 3 and 4 in. We're all very tight knit. We don't see each other enough but when we do, we pick up right where we left off.
Toy Newkirk's mom was my best friend and I was her agent when I was an agent. We have these deep connections. We really, really care about each other.
Toy and I connected when she was at Monster Mania a few years back and she's just wonderful.
The name 'Toy' is perfect for her. She's delightful, joyful and SUPER smart. The ties are deep.
What are your thoughts on the streaming movies versus going to the movies?
I like streaming. I'm not a big moviegoer. I used to watch films on plane when I would fly. If someone invites me and the film NEEDS a big screen, sure. But I'll usually indulge myself when I can't go back to sleep at 2 in the morning.
How cool is it for you to be a part of the "Nightmare" series and your daughter a part of the "Friday The 13th" series?
It's just weird. I think she did her "Friday" film first and then I booked mine. When her film first came out, I was always asked if I saw it. And I would say NO. Would you want to see your daughter get murdered?
She's an amazing daughter, mom, wife, activist, photographer..
What does it mean to be a part of the "Nightmare On Elm Street" legacy?
I did not want to do a horror movie. My agent talked me into it. I can't tell how grateful I am I was talked into it. I was sitting on the set of "Nightmare 3", and noticed some hub bub with the director and few of the producers. It turns out someone had broken into the studio and stolen Freddy's sweater. They always have backups, but someone is risking jail time for a sweater? Something they'll just frame or sell? I knew then it was a pretty big deal.
You're a part of film history.
The fans are the loveliest kindest group of people that I've ever met. They couldn't be nicer. They always have something to say that's really lovely. They're my everlasting love. It's great to be a part of this community.
What is your favorite part of fan conventions?
I love doing Q&A's and love listening to Robert Englund because he has stories of EVERYONE. He's a genuine, kind actor. Often times, fans will know SO MUCH more than we will about certain films. It's a learning process too.
Another thing I love is sitting at my table, talking to fans and taking pictures with them. As an actor, you go into the audition, and then the call back, and then when you get the role, into hair and makeup, blah blah, shoot the stuff and you leave. Somewhere in the magic of video stuff, it's all put together. You never really meet the fans sitting next to you in the theater. So conventions are the last part of the cycle.
I remember "Nightmare 3" was the first horror movie I ever saw. I was probably seven or eight.
Oh, good. ::laughs::
I distinctly remember the scene where Freddy decapitates you and is holding your head in Kristen's bedroom. How did that scene happen?
It was a green screen and I had to go in and have a head made. A lot of people freak out because it's like an MRI. You have to be still and they put straws in your nose so you can breathe. They keep talking to you so you don't freak out. It may take a while.
There was a very famous picture of Trump being held by Kathy Griffin. She took that from "Nightmare 3" when Freddy was holding my head. Robert told me that. I said "So you think I'm like Trump?" Robert shrugged it off and said "No No No, I'm not going that far."
Would you ever want to reprise your role or play someone else in a future installment?
It would be really fun to play the grandmother..although Kristen is dead. I came up with an idea that we all become holograms somehow and he can wreak havoc there and kill us all again.
When I went on set of "Nightmare 4", I just didn't understand how I could be alive. Freddy killed me in "Nightmare 3." Robert shrugged and said "yeah." I said "Yeah?" Robert said "Shut up." And I said "okay." It's one of the most perplexing things in my life but I'm forever grateful to be in "Nightmare 4."
Maybe your character wasn't meant to be in Kristen's dream? Freddy could've projected you as a mirage or red herring? My brain hurts..just take the royalties. ::both laugh::
Are you excited about appearing at Monster Mania?
I'm BEYOND excited. I get excited doing any convention. It's such an honor with a capital H. You're with your friends, meet fans and have the best time. I was in Maryland years ago and I had Crab Bisque Soup. I had it three meals a day for three days. I craved it when I got home. It was the best of the best of the best. I'm so excited to come back.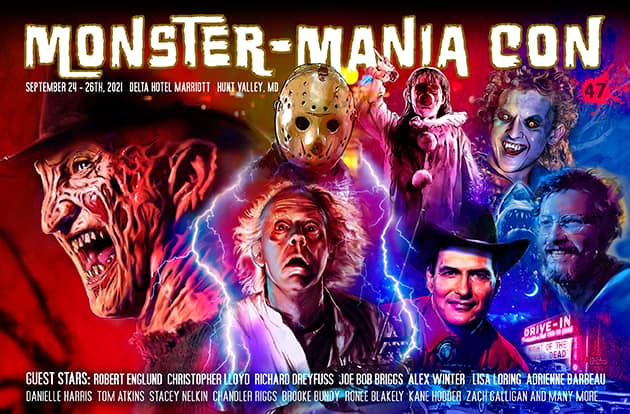 Brooke appears at Monster Mania 47 in Hunt Valley September 24th -26th!
Buy tickets/ Guest Info
Follow Brooke Bundy on Instagram