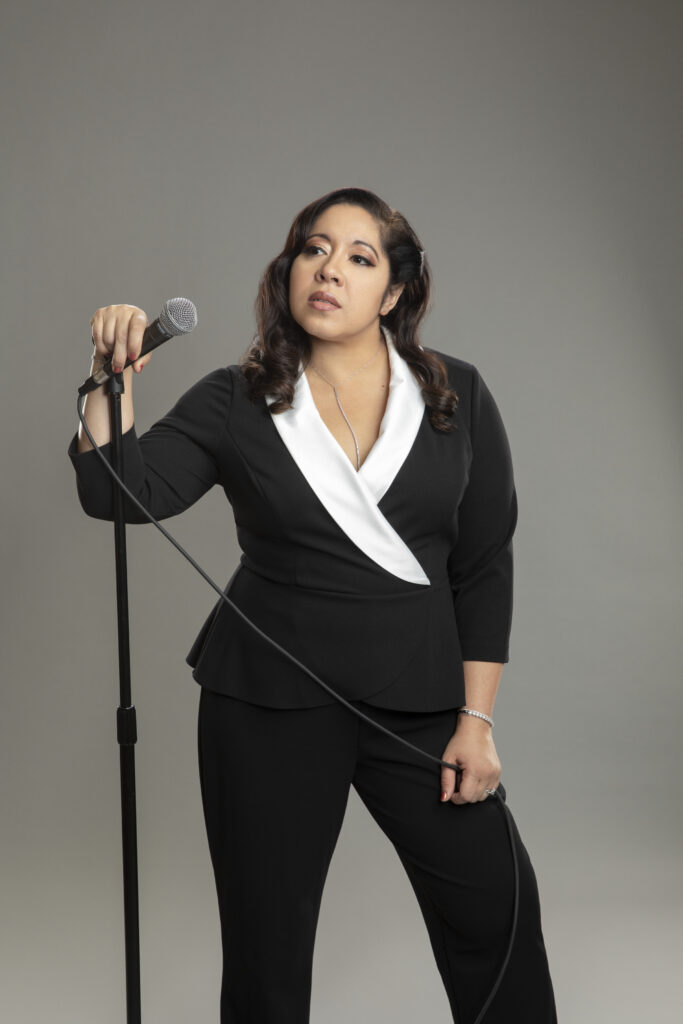 I chatted with comedian Gina Brillon about her journey on "America's Got Talent" and her love of the two George's!
Background:
Born and raised in the Bronx, New York. I grew up there until college. I moved around a bit but ended up in Queens. I'm still an East Coast gal.
When did you know you wanted to be a comedian?
When I was fourteen, I saw my first standup comic. I knew in my heart I wanted to do it. Nothing had pulled me that strongly. I watched EVERY comedian I kid. I watched comedian based sitcoms..basically anything I could get my hands on. I started performing for friends when I was seventeen. By 18 and 19, I was getting into clubs performing.
What was it like being on "The Connors" a few years back?
It was incredible. I was SO excited because I grew up watching "Roseanne." Here I am sitting on their couch chatting it up with DJ. ::laughs:: I even got to sit across from John Goodman. I had to take a step back and say "What is life?"
Were you able to touch that iconic blanket?
::whispers:: I did. I made sure I touched the blanket.
I know that's SUCH a weird question..
But THAT is the blanket you want to touch.
You have a special on Amazon called "The Floor Is Lava." Why did you call it that?
It was one of my favorite broke games growing up. We would change the setting sometimes or change the name. It kept us entertained for hours.
What was it like getting to the finals of "America's Got Talent?"
It was nerve wracking. It's such a different animal. You basically get 2-3 minutes to impress America. You hope to pick the best material to showcase what you do. Out of thousands of people, it was an honor to be there. It was totally worth it because I learned so much and I met so many amazing people.
What was the best piece of advice you got from the judges?
Oh man. I wouldn't call it advice, but my favorite moment was when I got Simon to admit that he was wrong. I felt like I WON with that moment.
Besides making people laugh, how do you see your role as a comedian?
Comedy is very healing. People use it to relieve trauma. It's always helped me personally. I think of comedians as healers and helpers. We're supposed to be commenting on life and sharing our thoughts on the human condition.
How important is diversity in the Entertainment business?
It's VERY important. It's rarely done and rarely done well. People in the industry tend to think it just means to hit on every single stereotype without concentrating on the stories. That makes it frustrating for people of color who try to get their stories out there. The more stories we tell about each other's differences, the more we learn about each other. I think it would make the world a better place.
You posted a headline on your Instagram about your excitement for the upcoming George Lopez television Pilot. I'm pumped! How much did you love his first sitcom?
Oh so much. I was a fan of his before the show as a comedian. We recently met because of AGT. He's pretty much the reason I started in comedy.
What was it like meeting one of your idols?
It was..scary because you never know what your idols are like. I've met other well known people that were not likeable. Having been disappointed before I was hoping he would be everything I thought. He's the most incredibly involved individually. He's gone through a lot of growth and change throughout his career. He deserves much more credit than he receives for opening the door for the next generation of comics of color.
I love his show, but he's also good in a film called "Spare Parts." What a great movie.
He's a waaay better actor than anyone knows.
I read that you're a huge Carlin fan. Why is that?
He's my favorite comic. It's the two George's for me at the top of the pyramid. It's a shame I couldn't meet him before he passed I've heard from several people that he always loved to meet new comics.
He was so bold and always had to make a point. You can actually see his evolution from the black and white old skips, that he admittedly hated, to the Hippy Dippy weatherman, to the ponytail wearing No F's given older guy. It's amazing to see a performer grow that way.
How did you cope during lockdown?
I was VERY pregnant. I tried to concentrate on that but I'm a workaholic so I did a ton of Zoom shows. We had no choice. It was Zoom or nothing until they started doing shows outside. It wasn't the same but it served its purpose. It was nice to just turn off your computer, and your home from work.
Are you excited about your upcoming shows at Magooby's?
I am! I've never been there but I've heard great things from other comics. Its right near where my parents live now, so Maw and Paw Dukes are going to come out. My brother is out in Maryland as well. It's a chance to perform in a city I've been meaning to get to experience.
Gina headlines Magooby's November 12th and 13th ! Buy tix