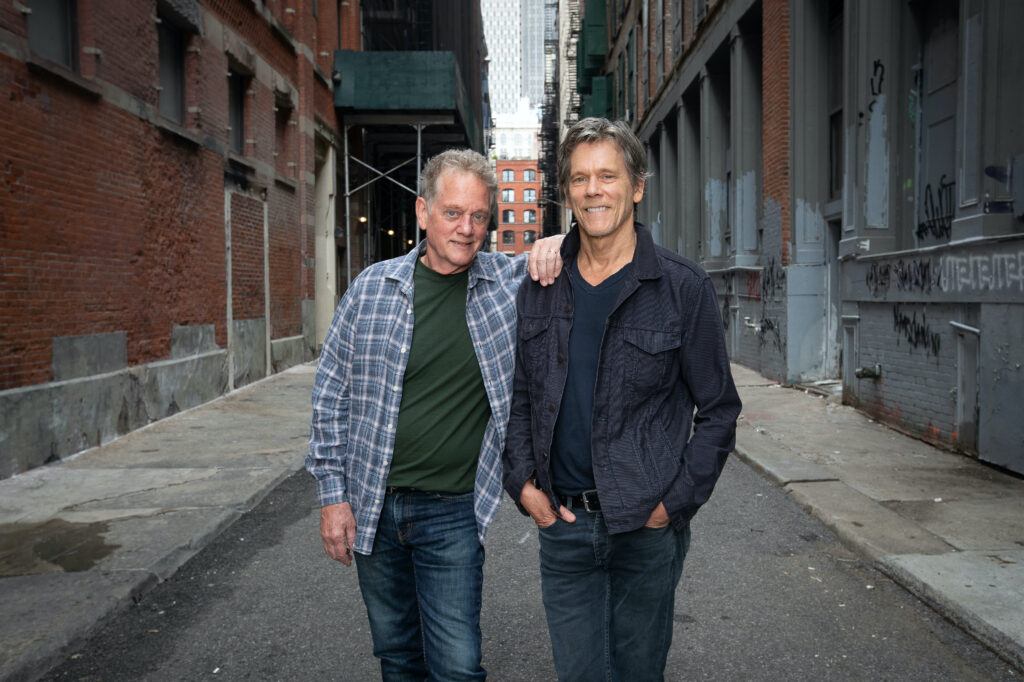 I chatted with The Bacon Brothers about their musical career and other industry endeavors
When did you know you wanted to be musicians?
Michael: I'm nine years older and i can't remember a time i didn't have music in my life. I play the cello very seriously. My sister taught me how to play the guitar. It was always a big part of our lives. Our parents would encourage us to flourish in the Arts. It took me until I was about seventeen to make that leap into the music world. 

Kevin: My introduction to music was from my brother. By the time I was born, he was already playing instruments, writing songs, etc He was really influential on me and always there for me. The band is about a creation of a song. We're not a cover band, we write our own music. It's about presenting songs to people and that's what we do.

Michael, what was it like winning an Emmy for "The Kennedy's?" 
It was a great thrill. It's always nice to get recognized in a venue like that. I don't want to sound cynical but it doesn't mean that much in respect to a long career. I would love to get another one ::laughs:: Once you receive something like that, you still have to move forward and on to the next gig. 

Kevin, when did you learn about this whole Six Degrees of Kevin Bacon Hollywood thing?

I became aware of it as it was happening. It was before we had the word viral..but it went viral. It tapped into some strange zeitgeist thing. I heard about it on Howard Stern and Jon Stewart. I thought it would go away. If it had started right now, it would've gone away. We have these beats of the moment, and it just zaps. To me it's not really a thing. You can't buy it, sell it, or hold it in your hand. It's just an idea 

Michael, what did you guys tackle during lockdown?

We did quite a few videos. Kevin did the majority of those. It's like everyone else..we tried to adapt. My film and tv scoring business never stopped. In fact, it wasn't that affected by Covid because things went digital about ten years ago. In my college job, I leaned how to teach online. We just kept trying to get stuff out there however we could. The last six months we came up and produced five new songs. We were luckily pretty productive. 

Kevin, one of your first roles was in "Friday The 13th." What do you remember about that experience? 

I wouldn't put it as one of the great memories of film making. It was a teen slasher movie and very low budget. When we got in the water, it was already October. I was doing a play in New York City and trying to make it back to New Jersey for the film. Our only transportation was them dropping me off on the side of the road so I could catch a bus. If the bus got stuck on the bridge, I was panicking because my understudy would have to go on.

Michael, what is your favorite songs to perform and why? 

One of my favorites is a song Kevin wrote called "Picker." It's describing my childhood. I like taking on challenges and it has a really hard dueling guitar part, kind of like The Allman Brothers. It's really fun.

Kevin, what is your favorite song to perform and why? 

It's a song that Michael wrote called "The Way We Love." It's not a long song. It's not super complex but it's just perfectly formed. I play a little harmonica on it and it just works. People really connect to it. 

Are you excited about your upcoming shows in Annapolis?

Kevin: we love playing there. It's definitely a challenge because we do two shows a night there. We have a day off in the middle but you have to bring it for the early show just like the late show. It's an audience we've always connected with.

Michael: I'm a sailor so I love being able to be by the water. It's a gorgeous little town. .
The Bacon Brothers headline Rams Head Annapolis on 4/6 and 4/8
Follow The Bacon Brothers: Website / Facebook / Twitter / Instagram