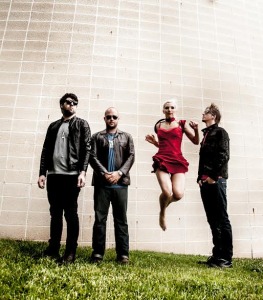 THE LAST YEAR SUPPORTS BRITISH POP SENSATION NEON HITCH ON FALL TOUR
(Baltimore, MD) – Talk about girl power! Two of the music industry's fiercest female artists – Niki Barr and her band The Last Year and Neon Hitch – are heading out for a fall tour that will take them from New York to North Carolina for a series of dates that kick off at The Knitting Factory in New York on October 26 and ends with a grand finale concert at the iconic Webster Hall in New York City on November 18.
The Last Year, which was the brainchild of lead vocalist Barr and bassist Scott Ensign, is setting the industry on fire with its debut single "Sugar." Under the direction of CO 5 Music, the smash hit is currently being spun at more than 14 radio stations, including WWDC 101, WLUM, KWSS, WWWX and many more, across the U.S. and is continuously being added to alternative and rock stations with each and every performance.
No strangers to the stage, Barr, Ensign and drummer BJ Kerwin have toured over 30 countries on three continents. In fact, they have performed 12 international tours for the Armed Forces Entertainment in five years performing for the Troops in the Middle East, Japan, UK, and many other countries throughout Europe and Southeast Asia.
"The support tour with Neon Hitch is the perfect opportunity to further promote the group's self-titled, new CD, which they teamed up with Shanachie Entertainment to release, and their single "Sugar," said Mike Marucci, of Marucci Artists Management.
Thanks to Barr's energizing stage presence and coy airy vocals that she expertly transforms into melodic rock rhythms, she amasses a following wherever she goes. Complemented by Griffith's "Edge-like" guitar playing, Kerwin's diverse drumming style that ranges from thrashing beats to cool, simple tempos, and Ensign's effortless transitions between beautifully-crafted synth melodies to driving bass lines, The Last Year flawlessly backs Barr up with its perfectly executed performances that only a group that has toured together for so long can do.
Show dates are scheduled to include:
October 24th Ram's Head Live Baltimore, MD*
October 25th Hebe Music Burlington, NJ*
October 26th The Knitting Factory Brooklyn, NY
October 30th Wilmington, NC
October 31st Chapel Hill, NC
November 1st Charlotte, NC
November 18th Webster Hall NY, NY
*Denotes The Last Year shows without Neon Hitch.
About The Last Year
Hailing from Baltimore, The Last Year is an alternative rock band. The act stems from an idea of front-girl Niki Barr, on vocals, and Scott Ensign, playing bass and synth. The pair, complemented by drummer, BJ Kerwin, and guitarist, Scott Griffith, approach their music with a kaleidoscopic attitude, embracing diverse influences and refusing to give in to conventions. Having toured over 30 countries on three continents, The Last Year is no stranger to the stage. With their impressive light show, guided by Barr's coy, airy vocals that she expertly transforms into powerful rock melodies, and Ensign's layers of synth growls, the show is a spectacle and a must-see.
The Last Year recently teamed up with Shanachie Entertainment in order to release a brand-new EP of new material. Describing the new release as "limitless" with "everything from buzz saw synth to airy atmospheric ambience to 80s drum sequence loops", the group says that their latest songs come from the dark place Barr is almost known for and showcase the band's perfect blend of natural and synthetic sounds.
The Last Year's EP has been warmly received by fans and critics alike, especially lead single "Sugar", a tune that bridges the gap between the darkness of Joy Division and the infectious, radio-friendly indie rock hooks of bands like The Temper Trap; spicing it all up with female leading vocals that wouldn't feel out of place on a Garbage record. "Sugar" is currently receiving spins on HFS 97.5 Baltimore's Rock Alternative, Baltimore's 98 Rock, 98.7 WTMD, Phoenix's KWSS 93.9, and SiriusXM's Alt Nation. The band has shared the stage with such bands as Ben Kenney, Paramore, Tove Lo, Phantogram, Somekindawonderful, Nicovega, and The Cult.
[follow_me]