I attended the Monster Mania Convention in Hunt Valley last weekend. I met some great vendors and some great celebrities!
We arrived and got our tickets right away. The person I was with had a Dunkin Donuts Ravens cup..one of the owners of the convention remarked "Oh you have Ravens cups down here? We only get Eagles up where we live." Sad face. Heh.
We make our way down to the vendors room. If you love horror movies, sci-fi, fantasy..you will LOVE this room.  And most likely go broke. One of the vendors we visited was JP Hobbies. They came all the way from New Jersey.
"This is my sixth Monster Mania show…The experience is like no other, it's rewarding to interact with customers and even some of the actors. Dave and his staff really do a great job supporting the vendors by bringing in some of the best people in the business. There seems to be more and more people coming to every show", said Jason Polito.
One of the new vendors I visited was Chroma Coma. Andrew Sheppard is from South Carolina..yes..South Carolina. Here's a preview of his pastel work: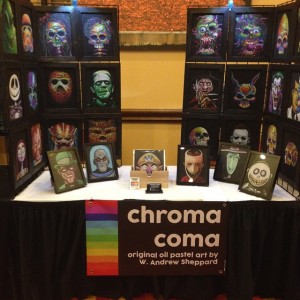 You can check out my interview with him here
We walked away with some cool pastels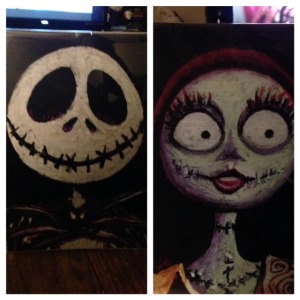 On to the celebrities!
We go back upstairs to "The Walking Dead" room.
I immediately went to Emily Kinney, who plays Beth on the hit AMC drama. She was nice..ish. Maybe it was nerves? She wanted $70 for an autographed pic and a posed pic combined. Wasn't happening. So I opted for the posed pic!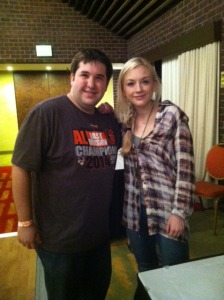 Next I saw my boy, Scott Wilson!
D'angelo Barksdale, everyone!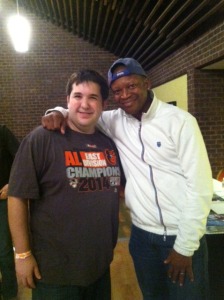 Of course, everyone from Baltimore knows him from "The Wire." We chatted about that for a few, then he brought up the Orioles. Seriously! They had just won Game 2 of the ALDS..he might be a fan! He took out his cell phone, and took a selfie with me. Seriously.
Here it is: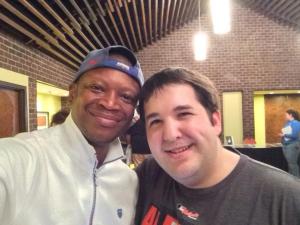 I then went to the "Halloween 6" reunion part of the convention.
I met Mariah O'Brien, who played Beth in the film. Her favorite memories from filming was having to tell the producers to change her costume in a scene, because it was literally like a table on her. Her other favorite memory was them having to shovel snow, since they were filming in Utah!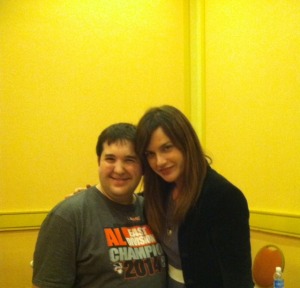 I also met Devin Gardner, who played Danny. His favorite scene was when he had to hold the knife up to his grandfathers chest. Yikes. Cool kid!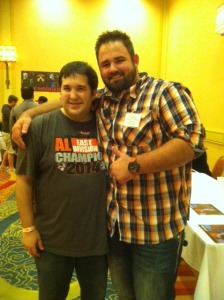 The cool thing I noticed about this section of the convention, was that all the "Halloween 6" cast were always together and chatting. Reminiscing. They probably hadn't seen each other in a very long time!
My last stop was to the beautiful Amanda Wyss. She played Tina in the original "A Nightmare On Elm Street."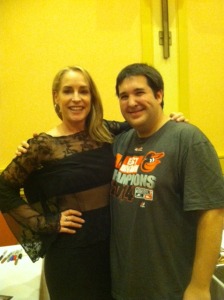 I asked about her experience in the body bag in the film. It was..quite hot apparently. I also asked her about experience on the WB show, "Charmed." She appeared in one episode, and was supposed to recur, but it never happened. It's still one of her favorite shows apparently. She's "just a dream!"
Seriously, if you're a fan of horror, sci-fi, and fantasy films and TV shows, you MUST go to Monster Mania next October in Hunt Valley. The three day event also includes Q&A's and film screenings!
See you next October guys and ghouls!