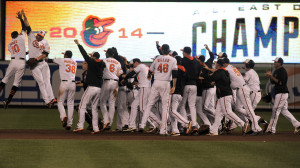 I'm pretty sure we all feel the same way right now. Sad. Pissed. Disappointed. After an O'mazing season the Orioles have had, I wouldn't expect anything less.
The last time the Orioles were in the ALCS, I was 8 years old. That's a hell of a long time waiting for ALCS baseball in Baltimore. We had a taste of it two years ago, when the O's won the Wildcard game and faced off against the Yankees in the ALDS. We thought this city went nuts then? Ngata chance.
On September 16th, the Orioles did something they haven't done in a very long time..clinch the A.L. East. Baltimore went absolutely bonkers that evening. Camden Yards roared for a good hour after the game; Twitter locally was on fire; and Orioles postseason gear was already flying off shelves.
This past month in Baltimore has been absolutely orange..and incredible. Baltimore City Hall, the Natty Boh Tower, Ravens Stadium, JHU..all lit up in orange. Seas of orange and black seen around the state, and not just on game days.  I haven't seen support like that since the Ravens won the AFC Championship. Everywhere you go, anyone you meet..they were talking about Dem O's. Even Lawrence Gillilard from "The Wire" chatted with me about the Orioles when I met him at Monster Mania. That's probably the LAST place I would expect to talk about the Orioles!
When I think about this season, I'll choose to think about the amazing moments, not the season ending sweep. Delmon Young clearing the bases in Game 2 of the ALDS = Orioles Magic at its finest. Or the Orioles 60th celebration at Camden Yards, featuring former and current players side by side. I don't think anyone can watch that ceremony and not get goosebumps.
It's amazing how the Orioles and the Ravens can bring this town together. And we need that. Every ounce of it. Buck and his team..are special. There's no other words to describe them at this point.
Onwards to 2015, O's fans. Take some shots, get some rest..because I have a feeling next season…
..We Won't Stop.