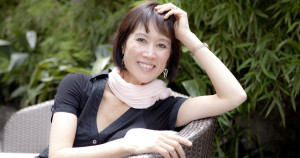 I spoke with bestselling author, Tess Gerritsen, about her career and her popular "Rizzoli and Isles" book series.
Q: When did you know you wanted to be an author?
When I was seven years old. I was an avid reader as a child, and was obsessed with Nancy Drew Mysteries. I wanted to tell my own stories.
Q: What is the hardest part of being an author? Easiest?
 It depends on which stage of career you're in. In the beginning, the hardest part is getting validation from your family, your friends, and from editors.  But now that I'm well along in my career and making a living at writing, the hardest part is trying to always outdo myself, book after book.  I'm now writing my 27th novel and I still want to write the best book I can, a book that will satisfy both my longtime readers and my new ones.  I don't think that beginning authors realize that the real challenge isn't writing your first book — it's writing your 20th book.
Q: Do you have a favorite author? Book?
I have so many favorite authors, across a number of genres.  I particularly love female-centric historical fiction, so I'm partial to Philippa Gregory.  I also love nonfiction, and my favorite there is Michael Pollan.  His book BOTANY OF DESIRE remains one of my all-time favorites.
Q: What is your favorite subject to write about?
I have a number of favorite topics, and if I can come up with a story to encompass it, I will.  For instance, I love archaeology, so I wrote THE KEEPSAKE, about an "ancient" Egyptian mummy who turns out to be a modern day murder victim.  I'm an amateur violinist and love music, and my new book PLAYING WITH FIRE is about a mysterious piece of classical music that may have the ability to transmit evil.
Q: Do you have a favorite book that you've written?
My two favorites are THE BONE GARDEN and GRAVITY.  They were both stand-alone novels, and very different from my usual crime thrillers.  I think that's why they mean so much to me.
Q: How did it feel when your book series, featuring Jane Rizzoli and Maura Isles, became a hit TNT series?
Throughout the process, I never really believed it would happen.  I've sold other books to Hollywood and nothing ever came of it, so when I got a call from a producer telling me he wanted to turn my books into a TV series, my initial reaction was "Yeah, right."  But hey, it was an option and he paid me for it and the check cleared.  A year later, the producer called again to tell me he had a great pilot episode script and TNT was interested.  A few months after that, he told me that Angie Harmon had signed on.  But every step of the way, I continued to doubt that it would actually make it to TV — until it did.  I'm still in a state of disbelief that not only did the show actually happen, it's being renewed for its seventh season.  I give all credit to that wonderful producer, a generous man who has kept me in the loop every step of the way.
Q: Do you have any upcoming projects?
PLAYING WITH FIRE goes on sale October 27.  It's about a woman violinist who buys a handwritten music manuscript titled "Incendio" in a Rome antique store.  Every time she plays it, her three-year-old daughter goes berserk, and the woman wonders what power that music has over her family.  Is it evil?  Is her daughter possessed?  She must delve into the history of "Incendio" — and her questions end up endangering her life.  There's also parallel story of the music's origins, which lie in wartime Venice.
What makes this story completely unique for me is the fact I composed the music 'Incendio" to go along with the story.  It will be recorded by internationally acclaimed violinist Susanne Hou, and available on iTunes when the book comes out.  So you can read a book about the music, and the music was inspired by the story.
Visit Tess Gerritsen's Official Website
Follow Tess on Twitter