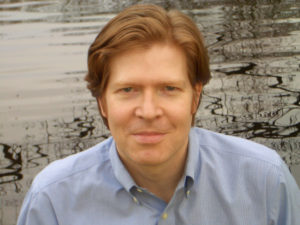 I chatted with author Richard Hine about his career and his new book, "Kim Kardashian Saves The World (After President Trump Nearly Ends It.)"
Q: When did you start writing stories/novels?
My first story was published in my high school magazine in the late '70s. After that, I took a break. I got back to writing seriously in the 1990s, taking creative writing classes and joining a writing group. From that point on, I published about 25 short (and "short short") stories in literary magazines. Meanwhile I was moving one or two steps up the corporate ladder at Time Inc. and later The Wall Street Journal, which didn't leave me much time or brain space to attempt a novel. It was only after I left Dow Jones in 2006 that I wrote my first novel Russell Wiley is Out to Lunch, which was a satire about the media business and the death of print.

Q: What inspired you to write "Kim Kardashian Saves The World (After President Trump Nearly Ends It)"?
As someone who pays close attention to politics, I was both amused and dismayed to watch Donald Trump's success during the Republican primaries. Trump was dominating the airwaves, infantilizing the debates, and making grandiose promises that he couldn't possibly deliver on.
I was gripped by the fear that millions of who don't pay close attention to politics might be taken in by these mass marketing techniques. I could see the allure of voting for Trump: He was arrogant. He was outrageous. He could turn the Presidency into a 4-year-long reality show.
I wanted to write a story for people who don't really think much about politics—one that would be fun to read, but also serve as a reminder that the world is a powder keg right now, and the next President must be ready to face sudden, unexpected, possibly terrifying challenges.

Q: Why Kim Kardashian? Why not Khloe?
I don't generally keep up with the Kardashians, but Kim seems to be the most famous, most iconic member of the family. She's also the one with the proven ability to #BreakTheInternet, which is crucial to the plot.
In my story, Kim Kardashian's public persona is actually a cover for her true identity—a highly intelligent, globetrotting secret agent. In the midst of a nuclear crisis, she is the one who has the smarts to negotiate face-to-face with Vladimir Putin.
On the flip side, my Donald Trump is nothing like the reality TV image he's sold his supporters on. Behind his bombast, he's an ineffective fool who doesn't even know the first thing about how to hire good people. He's like the Wizard of Oz when the curtain has been pulled back. In that regard, my Trump character may be far closer to reality, than my Kim K is.

Q: What was the hardest part in writing this novella?
This novella has the plot of an international thriller. The only difference is the secret agents are celebrities. The hardest part was making sure the thriller elements were as plausible and fact-based as possible, which required a lot of research. The details of military planes, weapons and bases are all as accurate as I could make them.
The nuclear crisis that unfolds begins in the Arctic Circle, and the details around it are based on actual military tensions in that region right now—these are tensions that I'm pretty sure the real Donald Trump has no clue about.
Q: Easiest part of writing this novella?
I think the funniest parts of the story were the easiest—especially the parts where Secretary of State Sarah Palin attempts to give President Trump military advice, and when Secretary of Defense Jesse Ventura is forced to put a few wrestling moves on The Donald.
Q: What has been the response so far?
The initial response has been very enthusiastic. The first reviewers on Amazon have said things like "brilliantly ridiculous" and "I literally laughed out loud repeatedly." Also, writing for the Huffington Post, Charles Alexander said: "if you can stop laughing long enough, you'll find that Hine actually has something serious to say about the potential global peacemaking power of social media."
The book has reached number two on Amazon's "Political Humor" bestseller list and even hit number one on the same list in Canada.
Hopefully, the book will continue to make people laugh and think, at least through Election Day, and then become obsolete.

Q: Will there be a sequel?
I hope I won't have to write about "President Trump" again. But now that I've created the "Celebrity Intelligence Agency," who knows? Maybe that's something I might revisit.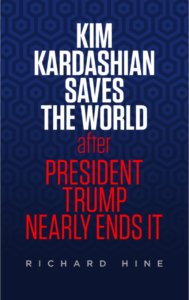 Buy a copy of "Kim Kardashian Saves The World (After President Trump Nearly Ends It)" HERE
Visit the books Official Website
Follow Richard on Twitter