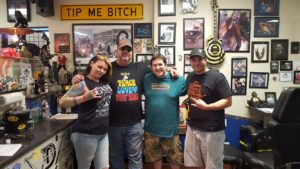 I chatted with Jon Malfi, Tony DeVille and KC DeVille about the upcoming Tattoos, Scars, & Guitars Fest. We also talked about their businesses Freestate Custom Guitars and DeVille Ink!
Q: Where are you guys from?
Jon: Annapolis
KC: Tony and I are both from South Baltimore.
Q: Jon, tell me a little bit about your business Freestate Custom Guitars.
Jon: I started it in early 2014. One day, I built a guitar..I was always tinkering around. From there, it just kept growing and growing. I have a Signature Series, which is my own line, and of course, the repair shop.
Q: What is your favorite part of running your shop?
Jon: The look on a musicians face when I take a scrap of wood, make it into a guitar, and they can play it for the first time.
Q:When did your love of guitars begin?
Jon: I've actually been a musician for forever it seems. I'm mainly a drummer, but play guitar as well. Ever since I got my first drum set and guitar, I've been in bands. Starting them, fixing them, etc.
Q: Tony, how did you get in to tattooing?
It was an accident actually. I was a piercing apprentice for a couple months, and we had this girl with this on the tattoo side. She wanted to be a "rock star", which means get all the glory, but do none of the work. So a co-worker of mine encouraged me to do a tattoo. I told him "The fuck I am!" We were working on the..not so privileged. Crackheads.
::laughter::
It just came naturally.
Q: Jon, how did VEER come about?
Jon: I grabbed some people I had played with before. That's how the name VEER came about..we all veered in different directions in the past.
Q: Are you nervous about your first performance with VEER?
Jon: Not really. More so stressed because we've only been a band for three to four months; we're still writing songs; rehearsing; and on top of that, I'm prepping the festival and running the guitar business.
Q: What is it like being in a band with your brother?
Jon: We grew up playing Johnny Cash, Jerry Lee Lewis. . It's nice being able to play with someone who is natural. I don't have to be afraid to tell him the truth either. ::laughs::
Q: What is the craziest thing you've ever done in life?
Tony: I'll pass.
KC: We had kids. Someone ACTUALLY let us be responsible for little humans.
Jon: Ohh that's a great one!
KC: I used to be a nurse before I became a tattooist. I had the honor of doing a pap smear for a post-op transgender. That was a first for me. I was kind of excited. I remember calling Tony up and sharing the news. Just like that time I saw syphilis for the first time. I called up the shop, and one of our employees answered. I said "Tell Tony I just saw syphilis!" Employee: "In a good way..?" Me: "In a total good way! Well for me, not for the person who has it!"
::laughter::
Jon: Well that takes the cake..I have nothing to say.
Q: How did the Tattoos, Scars, and Guitars Festival come about?
Jon: Tony is actually one of the first sponsored musicians. We both LOVE music..KC is right up there with us. We were trying to figure out how we can combine our love of music, guitars, and tattooing. I remember we were on speaker phone when we decided on the concept.
KC: It's getting harder and harder for local music in Baltimore to be heard. All the music venues keep closing down.
Jon: What we wanted to do is bring in local bands, and give them an experience. We're going ALL OUT with this. From the stage,to the lighting, to the VIP passes.
Tony: We have a list of bands who wanted to play this event, but you have to whittle it down obviously.
KC: That's how this second show was born. We wanted to see how far in the hole we got ::laughs:: We did really well though! We try to keep everything local, even vendor wise. Our business, Jon's business. It's a way to network at the event with people in the area they may not have known about. Building relationships is key.
Jon: It's a different atmosphere than most festivals. You come in, get some food in your belly, walk around and visit with local vendors. You'll get to see some great local bands, who are all so down to earth.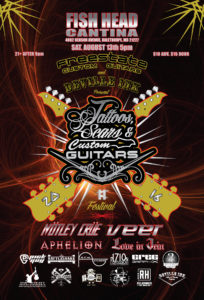 The Tattoos, Scars, & Custom Guitars Festival takes place August 13th at Fish Head Cantina!
Visit Freestate Custom Guitars Official Website
'Like' them on Facebook
Follow Freestate Custom Guitars on Twitter
'Like' DeVille Ink on Facebook
Follow DeVille Ink on Twitter