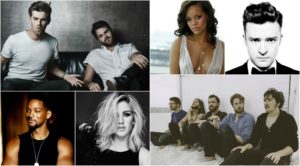 Happy Summer, everyone!
Here's a list of songs that I absolutely CANNOT live without this summer.
Hope you enjoy!
"Cruel Summer" – Bananarama
Yeah..I know. Such a poppy tune. But it feels so damn good!
"Miami" by  Will Smith
I know what you're thinking. "Miami" over "Summertime?!" Yup. That's how I roll.
"Say Hey I Love You" – Michael Franti & Spearhead
This tune just makes me wanna DANCE. Latin style.
"Style" – Taylor Swift
This is my guilty pleasure summer song. Nothing like blaring this, top down, on the open road.
"Love Me Like You Do" – Ellie Goulding
Nothing like snuggling up with your lady (or gent) by the fire (preferably outside) to this one…
"Photograph" by Ed Sheeran
Such a sweet song for that lover in your life.
"All Day All Night" – Moon Taxi
What a tubular song. That's all I can say to describe it.
"As I Lay Me Down" – Sophie B. Hawkins
A sentimental favorite. (It works guys..trust me)
"Broken Wings" by Mr. Mister
Another tune I love blaring with the top down going down to the ocean with the squad.
"Shut Up And Dance" – Walk The Moon
No list would be complete without this gem. My favorite song to dance to, hands down!
"Cake By The Ocean" – DNCE
A very weird song title, but a MUST for Summer 2016 playlists. Who wants to take a cake beach selfie?!
"Can't Stop The Feeling" Justin Timberlake
Song of the summer. The End.
"Summer" – Calvin Harris
Probably Harris' best tunes. This gets pumped up wherever I hear it.
"Summer of 69" – Bryan Adams
A classic tune, taking a nostalgic look at ones past.
"I Took A Pill In Ibiza" – Mike Posner
A great party tune, perfect for summer. BTW, the video is fucking weird. You should totally watch it.
"Don't Let Me Down" – The Chainsmokers f/ Daya
"This Is What You Came For" – Calvin Harris f/ Rihanna
Calvin Harris and Rihanna are a lethal combo. No doubt.