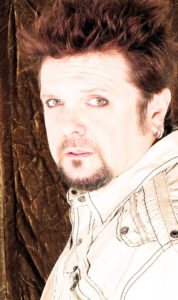 I chatted with Paul Lewis about his music career and new film "Days Of Power."
Q: Talk about your childhood, where you grew up, etc
I was born and raised on the Eastern Shore in Maryland. I grew up in Salisbury and Ocean City. I moved to Baltimore after college, and lived right near Fells Point. I eventually moved to Los Angeles to pursue my career.
Q: When did you know you wanted to be a musician?
I was the kid who watched Soul Train and American Bandstand before I went out to play. I had KISS, Elvis, David Bowie posters on my wall. Both of my parents were musical, so it was already in my blood at birth.
Q: What is your favorite song of yours?
It would have to be a song called "We Are Waiting." It's for the film "Days Of Power." My daughter and I sing on it. Another reason I pick that song is because we recently won an award for it at the Garden State Film Festival.
Q: How did you get into acting?
Even though I always sang, I was more interested in acting and theater. In started acting in fifth grade. It was a Columbus Day. Basically, I interviewed Christopher Columbus. I kept doing it after that because I liked it. I've done everything theater wise. Greek tragedy to comedy to musicals to Shakespeare.
Q: Who do you play in "Days of Power?"
I play a bad guy named Travis ::laughs:: He's despicable beyond despicable if that makes sense. He's the one that when he comes on the screen, you go "OH NO, not him again!"
Q: Are you excited for the screening tonight?
Extremely excited! Baltimore is my second home. Baltimore has always supported everything I've done. It's nice to come back with a totally different project.
"Days Of Power" screens TONIGHT at Cinemark 24 Arundel Mills
Follow Paul on Twitter