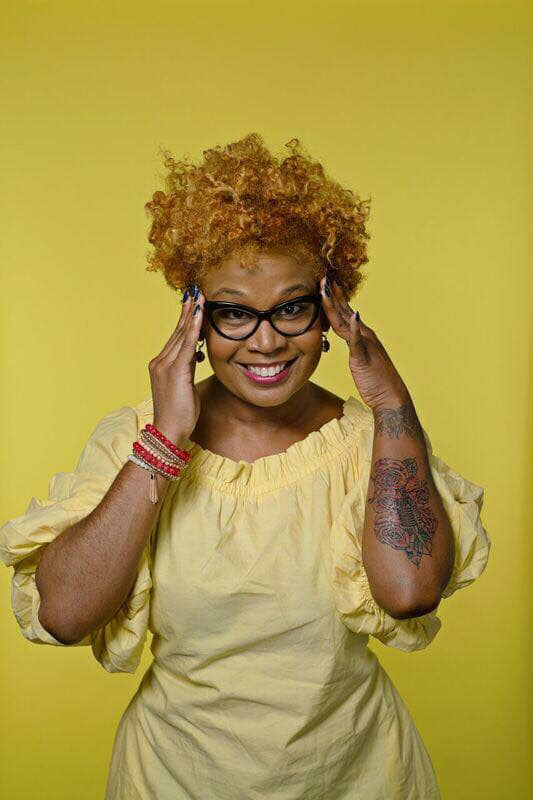 I chatted with Michele Sometimes about her comedy career and her experiences being heckled (sort of).
Q: Talk about your background, where you're from, etc, 
I am originally from Paulsboro, New Jersey. I grew up in Riverdale and Bowie, Maryland, and ultimately Washington, DC

Q: When did you know you wanted to be a comedian?
When we moved from Jersey, my dad went to school and my mom worked nights. So during the day my mom slept and my dad was gone.  My sister and I would be alone alot.  They used to show re-runs of  60s, 70s sitcoms on TV and I LOVED THEM!  My favorites were Love, American Style which was a sketch comedy show, The Dick Van Dyke which was a sitcom about a comedy writer and his family, and I Love Lucy which was so funny to me.  I knew I wanted to make people laugh in some way, but at the time didn't think that was an option for me.  My family was very strict and stressed the importance of being a "professional" and that didn't include being a performer.  In high school I joined the drama club and got the lead in a couple of plays and even got a partial scholarship to U of Md for performing. However, my parents forbid me from majoring in theater as they thought it was not practical.  Much later in my professional life as a teacher, I met someone who put on  open mics.  At this time I had been married, divorced, and had two children. After my divorce I got back into theater, doing landing parts in The Black Theater Festival, a part in a Walking Dead promo commercial, and a couple of roles with the Baltimore based experimental theater troupe, EMP.  Unlike theater, Stand up comedy seemed like it could be more sustainable because most of the prep was on my own and performances at 5 minute increments.  That's how I started out.  5 minutes at a time.
Q: Go back to the first time you did stand up. What was going through your mind? What was the crowd response? 

The first time was terrible.  I didn't understand being funny and being funny on purpose required a lot of prep.  The crowd was silent.  I was good with stage presence and they were listening, but unfortunately for me they were listening for punch lines and I had none. I was surprised but really determined.  Mark Carter a dc comedian gave me The Comedy Bible, and I went to a workshop given by Judy Carter.  I was determined to get better and better.  My ego wouldn't let me leave it at a fail the first time.  By the time I felt good about my performances, I was definitely hooked.

Q: Who is your favorite comedian and why? 

My favorite is Richard Pryor.  He's a master of telling a story and acting out a joke.  I love how he brings the physical comedy and intellectual comedy together.  He could make people laugh and cry at the same time.  He's a master. Anyone following him is standing on his shoulders. In my home I have a picture of Richard Pryor and Lucille Ball.  I pattern my comedy as a combination of physical, intellectual, and storytelling comedy performance.

Q: Have you ever been heckled? If so, how did you react? 

I've never been heckled per se.  But I was at a mic that I was PAID to be at.  the host put several open mic comics ahead of the paid performers.  The host saw the crowd was getting bored and about 3/4 through the show he told them that if they didn't like a joke they should boo.  I went on next to last.  I did a set that I had gotten an applause break just a week before.  I did one joke that went over well, I went into the next joke and I heard my first boo. I hadn't even gotten to the punch line.  I powered through and got angry as I heard the boos.  I should have just left.  I realized then, that not everything is for everybody, and if they aren't ready to listen, it's okay to get off the stage even if I haven't done my time.  I wanted to finish because I knew I was getting paid.  I shoulda taken that $50 for the 3 and half minutes that went well.  Later, one of my favorite comics who had been on The Late Show, taped her live album at DC Improv got boo'd by the same audience.  They actually turned their chairs  to ignore her.  Some audiences are not worth your talent.  And that is all I have to say about that.

Q: Do you enjoy performing for a smaller room or a larger room and why? 
I love both spaces.  There's a magic that happens when 20 folks are crammed in a dark room and laughing at what you say.  However, commanding a large space is amazing.  It makes me feel so powerful.  I just love the opportunity to make people laugh no matter what the space.  
Q: What is The Charm City Comedy Festival? 
The Charm City Comedy Festival is a festival that gives you a variety of the kinds of comedy that happens in Baltimore. It's workshops, improv, and stand-up. There's comics and performers from folks based in Baltimore and people from outside.
Q: Are you excited to perform this week at the festival?

Very!  I love meeting new performers.  I do shows at the Lou Costello room frequently.  I love what they have done with the space! It's an opportunity to do comedy with all my favorite people and an opportunity for folks in Charm City to see what their city has to offer.  Baltimore is an art town and it's great that comedy is getting a chance to be highlighted as a vibrant comic scene in the overall arts community in Baltimore.

The Charm City Comedy Festival runs through May 11th!
Michele headlines Charm City Comedy Fest May 11th at 8:30pm!
Follow Michele on Twitter
Charm City Comedy Festival Official Website