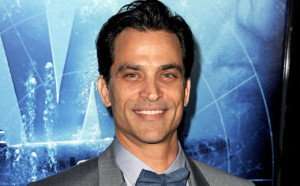 I sat down with Maryland native Johnathon Schaech! We talked about his new film "Vice", his starring role in "That Thing You Do!", and the Orioles.
Q: What was your first acting gig?
A:  It was at UMBC..a scene from "Outsiders."  I was in LA so I sent my voice over part from LA – Got an A! STAY GOLD!
Q: "That Thing You Do" is one of my favorite films. Working with Tom Hanks and that group of actors must have been incredible. What did you take away from that experience? 

A: Good friends for life, and a CULT classic to celebrate with everyone. I wanna do a tour with The Wonders before it's all said and done.
Q: The film seems to have a cult classic-like following. Do fans often quote lyrics/lines from the movie when they meet you? 

A: "I quit, I quit, I quit, Mr. White."
Q: Your new film "Vice" hits theaters January 16th. It's about a place where humans can play out their ultimate fantasies. Who do you play?

A: I'm Bruce Willis' right hand man. I'm Pippen to his Jordan. His Ray Lewis to his Harbaugh! I'm in charge of the programming of VICE and the VICE facilities safety. I'm what Rutger Hauer was in "Blade Runner." A bad ass!
 Q: What was it like working with Bruce Willis?
A: Bruce and I had a lot of scenes together. It was like playing chess with Bobby Fisher, but Bobby just wanted someone to make him laugh. Bruce is a MOVIE STAR. But he knows his craft as good as anyone I've worked with. The one thing I can say about my career, is that I've starred opposite the best of the best: Lange, Paltrow, Ed Harris, Jon Voight, James Caan, etc..
Anyway, back to Bruce and VICE! We survived because he had a stash of 5 Hour Energy drinks. He and I both had new families we wanted to get home to — so we focused and had each others back. Made sure we both got home safe.
Q: As an actor, do you prefer shooting on set or on location?
A: Please cast me in a series at the Warner Brothers lot, or Universal..I live down the street! Or even back in Baltimore. I don't want to miss a moment with my son, Camden.
Q: If you weren't an actor, what would you be? Do you have any other passions besides acting?

A: I'd be a cop like my dad, or a Marine. Or if I passed the tests, a Navy Seal! I was raised a warrior poet. I'm 45 and just had my first child. I want to be around to see him grow up — I must maintain my fitness. So I may write a fitness book for dads!
Q: You wrote a book with Rick Dempsey called "Caught Stealing." How did that come about?
A: Rick is a great inspiration, and more than just a ballplayer. He's a showman. We sold one of his stories to Columbia and hung out a lot during the process. He has so many great stories to share, that I had to write it for everyone. Earl Weaver, Orioles Magic stories, etc.
Q: What has been the response to the book from Orioles fans?

A: O's fans love it! I grew up when we had Dempsey behind the plate. It was magic. REAL MAGIC! We are finally getting that O-R-I-O-L-E-S MAGIC back!
Q: We had tweeted back and forth in the past about throwing out the first pitch at an Orioles game. This past season, that wish came true! Was it everything you thought it would be?

A: I grew up in Baltimore. My dad was a city cop for 26 years. I named my son Camden! IT WAS GOLD. I felt like I had finally arrived! ..Except my arm nearly fell off.
Q: When you think about the 2014 Baltimore Orioles, what is the one thing that comes to mind?

A: The '82 Orioles. One game away, one year away.
Q: What is the best part about being a Baltimore sports fan? 
A: We fight. We have to work hard and fight hard. Don't under estimate us, or put us down..we WILL beat you. One way or the other!
Q: Besides "Vice, do you have any other projects coming out this year?

A: "Texas Rising" on the History Channel. It airs on Memorial Day. It's going to be EPIC!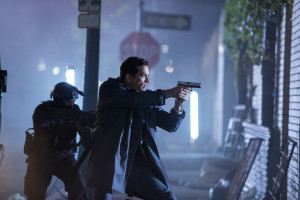 "Vice" hits theaters January 16th!
Buy a copy of "Rick Dempsey's Caught Stealing" from Amazon: http://amzn.to/14OccLr